Share the love this Valentine's Day
To celebrate Valentine's Day this year, we are holding a special raffle to give you the chance to come and meet your love! But who do you love the most?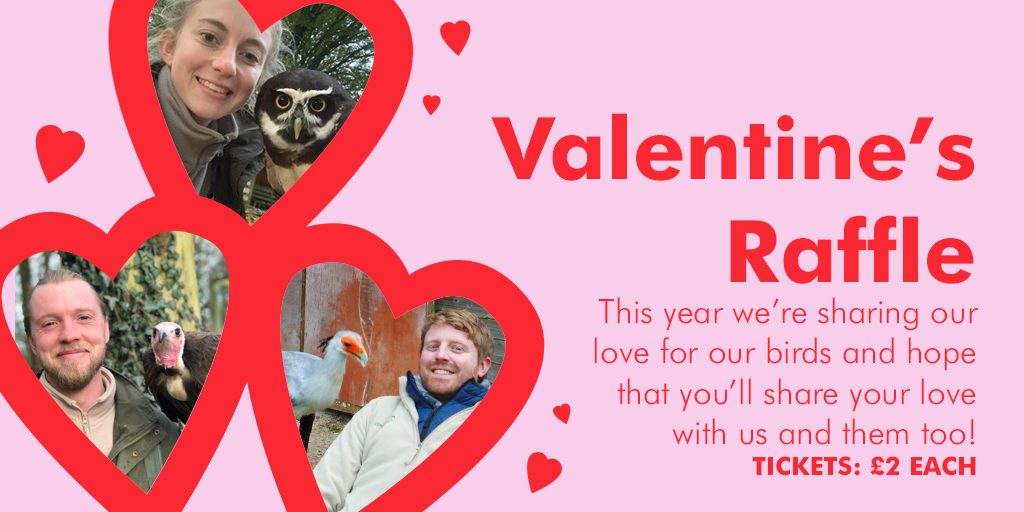 We have three options for you to choose from and we've paired them up with a member of our Bird Team (who also really loves them) to tell you exactly why you should choose them. Will it be Galaxy our Spectacled Owl and Ria, or perhaps your a big fan of team Hooded Vulture and Matt, or has Madeleine the Secretary Bird and Ryan stolen your heart?
The raffle costs just £2 per ticket and you can buy as many tickets as you like. The lucky winner will have the opportunity to come to the Trust to meet their chosen loved one, and will also receive free entry to the Trust for the day (up to two adults and two children). To make it even more special the winning party will enjoy a delicious afternoon tea in Feathers Restaurant!
The past year has been the most challenging time the Trust has ever faced, and whilst we continue to suffer the effects of this, we hope that by coming up with creative ideas such as this, it will give you the perfect opportunity to support us, if you can.
Terms and conditions apply and the prize can be arranged to be taken as soon as it is safe to do so, according to COVID restrictions. Raffle closes at 10am on Monday 22 February 2021.