Our Project
Since 2010, the Hawk Conservancy Trust's UK Conservation Biologist, Dr Matt Stevens has been collecting data on the distributions of Buzzards and Red Kites across central-southern England.
This research is particularly interesting because it is the first time that densities of Buzzards and Red Kites have been calculated using an intensive distance sampling method.  Previous estimates for these species have been derived from breeding bird surveys to create an index of population change. Using this robust method, data were collected between 2011-2016 in Wiltshire, Hampshire, West Sussex and Surrey.  Since then, Berkshire and parts of Wales have been added and work is now being expanded into Buckinghamshire, Oxfordshire and Kent.
During the first part of the project, Matt walked 4500km along pre-determined routes to observe and record sightings of both species. Matt enlisted the help of volunteers for the expanded project and so far, they have walked a further 2000km.
In addition to monitoring population changes, we fit Buzzards and Red Kites that have been rehabilitated at our National Bird of Prey Hospital with radio transmitters so we can monitor their post-release movements and behaviour. This allows us to gain a better understanding of post-rehabilitation survival rates of these species, and understand habitat use.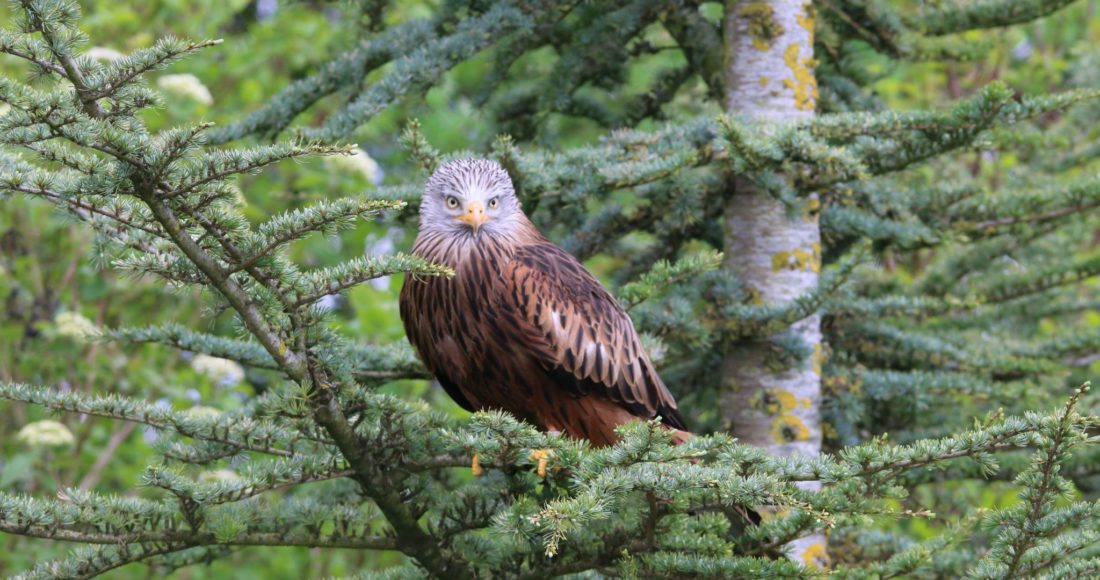 Project Outcomes
Initial analyses indicate that the population of Red Kites in the study area more than doubled during the survey period. This can be attributed, in part, to the success of the Red Kite Reintroduction Programme in which the Trust played an important role. Buzzards also showed an increase; however, in recent years, the rate of increase of both species appears to have slowed. The graph below illustrates the changes in Buzzard numbers in spring (blue) and autumn (red) from 2011 to 2016. Find out more about our Buzzard research. Whilst the increase of these beautiful birds in our British countryside is good news, these results highlight that they are still having a difficult time.
The populations are still at lower densities than we would expect when compared to similar habitats in mainland Europe so we are continuing to monitor Red Kites and Buzzards. When combined with data from the National Bird of Prey Hospital TM and the Predatory Bird Monitoring Scheme, the results from these surveys emphasise that both species are facing a number of both deliberate and accidental threats that could be limiting population growth.  For example, during the study period, 3% of Buzzards admitted to the hospital were shot and a significant number of Buzzards were found to have been poisoned by rodenticides.
Figure 1: Graph showing Buzzard population changes over time in spring (blue) and autumn (red)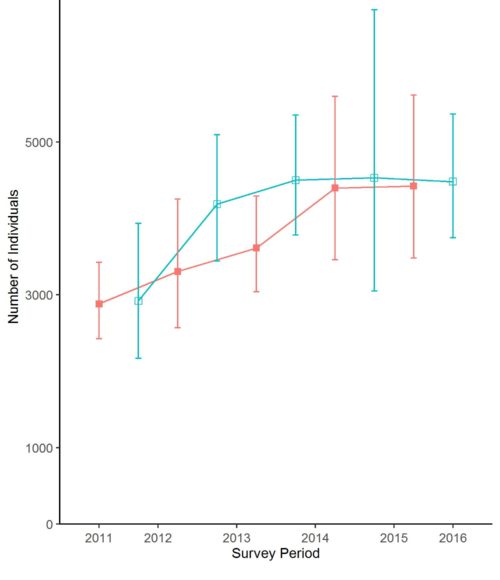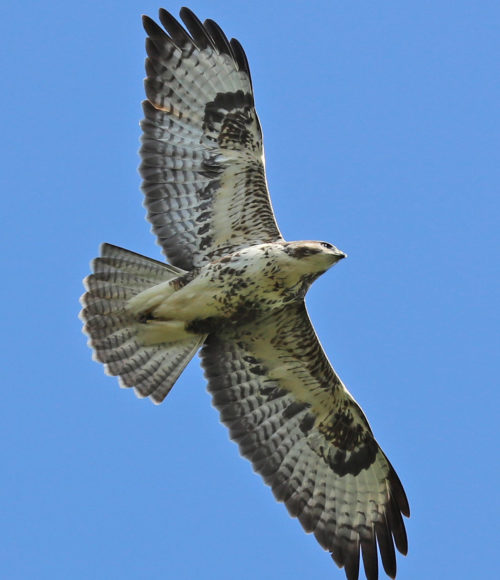 Project Partners
As part of our wider research project to monitor birds of prey, we have expanded our study area for this project and our Kestrel Conservation Monitoring into parts of Wales, where we are working with Eagle Reintroduction Wales and MSc students from Cardiff University to survey bird of prey populations.
Eagle Reintroduction Wales is a community-research project investigating the feasibility of reintroducing White-tailed Eagles and Golden Eagles back to the skies of modern Wales! This exciting project involves working with conservation organisations and other stakeholders to assess habitat suitability, potential threats (including illegal persecution) and prey availability for eagles in Wales. We are extremely happy to be research partners with ERW, to increase efforts surveying raptor species in Wales.