Nature's a Hoot LIVE: Kestrel Special
Hannah Shaw and Tom Morath, hosts of our wildlife podcast Nature's a Hoot, will be coming to your living room LIVE on Sunday 21 February for a special virtual event!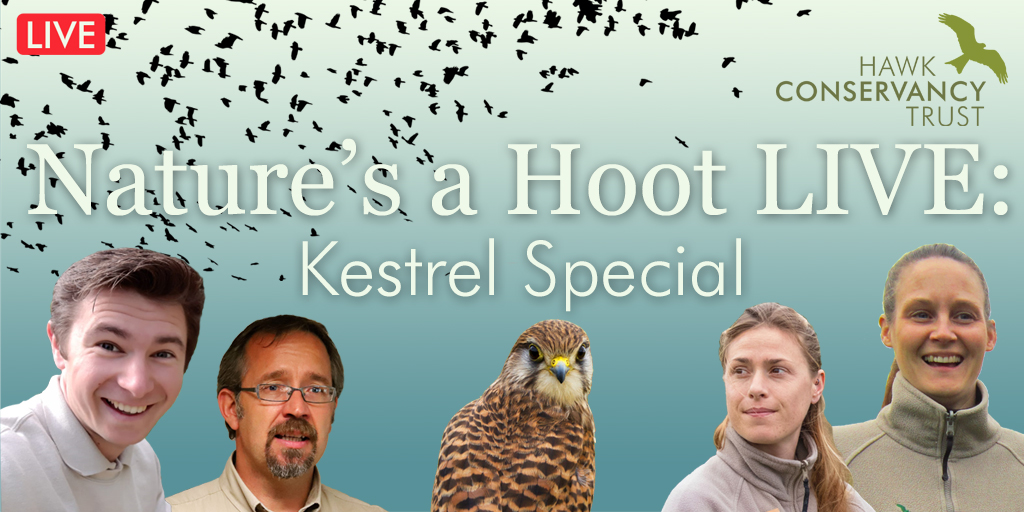 During the evening we will be sharing a fascinating documentary that takes you out into the field with our UK Conservation Biologist, Dr Matt Stevens. Filmed in 2019, this will give you an insight to the wonderful world of Kestrels and our work to conserve them. You can glimpse inside nest boxes, meet some of the youngsters that are living there and discover more about Matt's very busy job of looking after over 1,000 nest boxes for the Trust
As well as premiering our documentary, during the evening we will be joined by Scout the Eurasian Kestrel alongside Miriam Nicholls from our Bird Team to uncover the secrets of the unique bond they have and to share with you how inspiring it is to be given the opportunity to train and fly such a stunning species.
Dr Matt Stevens will also be dropping in for a Q&A, so make sure you bring any burning questions you have about Kestrels to have them answered by our resident expert!
We miss seeing you, our visitors, each day at the Trust, and we know how much you benefit from seeing our beautiful birds, so we hope that you will enjoy this virtual event to keep you going until you can come and see us in person! The past year has been the most challenging time the Trust has ever faced, and whilst we continue to suffer the effects of this, the unwavering support of our community has been immensely helpful and reassuring. Thank you.
This event will air live on our YouTube channel: www.youtube.com/hawkconservancytrust
If you would like to make a donation to the Trust for this event, we would be so grateful. Donate now!