Vulture Breeding 101
This month, we caught up with our Head of Living Collection Gary Benton to find out all about our work to contribute to the survival of this wonderful species here onsite.
Breeding Programmes
"As many of you will know, we could be considered 'Vulture nuts' here at the Hawk Conservancy Trust! We have been a part of vulture conservation and research projects for many years, and are passionate about their survival in the wild. Although our projects across southern Africa and South Asia make up the majority of our work with vultures in the wild, we also contribute to their survival here onsite.
Breeding projects in zoos across the world help to create a healthy stronghold of birds in collections, which in turn could mean the survival of the species if they became extinct in the wild. The animals in collections can be key to repopulating the wild should their wild cousins be wiped out, so these breeding projects are very important and really do work.
Here at the Trust, we have been successfully breeding key species of vulture for many years as part of one of these breeding programmes. Not only are we involved in the EAZA (European Association of Zoo's and Aquaria) programme for White-headed Vultures, but we are also committee members for the Cinereous Vulture programme, and coordinators of the breeding programme for African White-backed Vultures. These programmes are called EEPs (EAZA Ex-situ Programmes).
We have breeding pairs of both species of these vultures here at the Trust (in fact we are one of the most successful at breeding these species in the world!). You will have seen these birds if you have been to many of our talks, flying displays or taken part in an experience session – these vultures are birds that have either been hatched at the Trust or come to us from another collection across Europe that are involved in this programme too."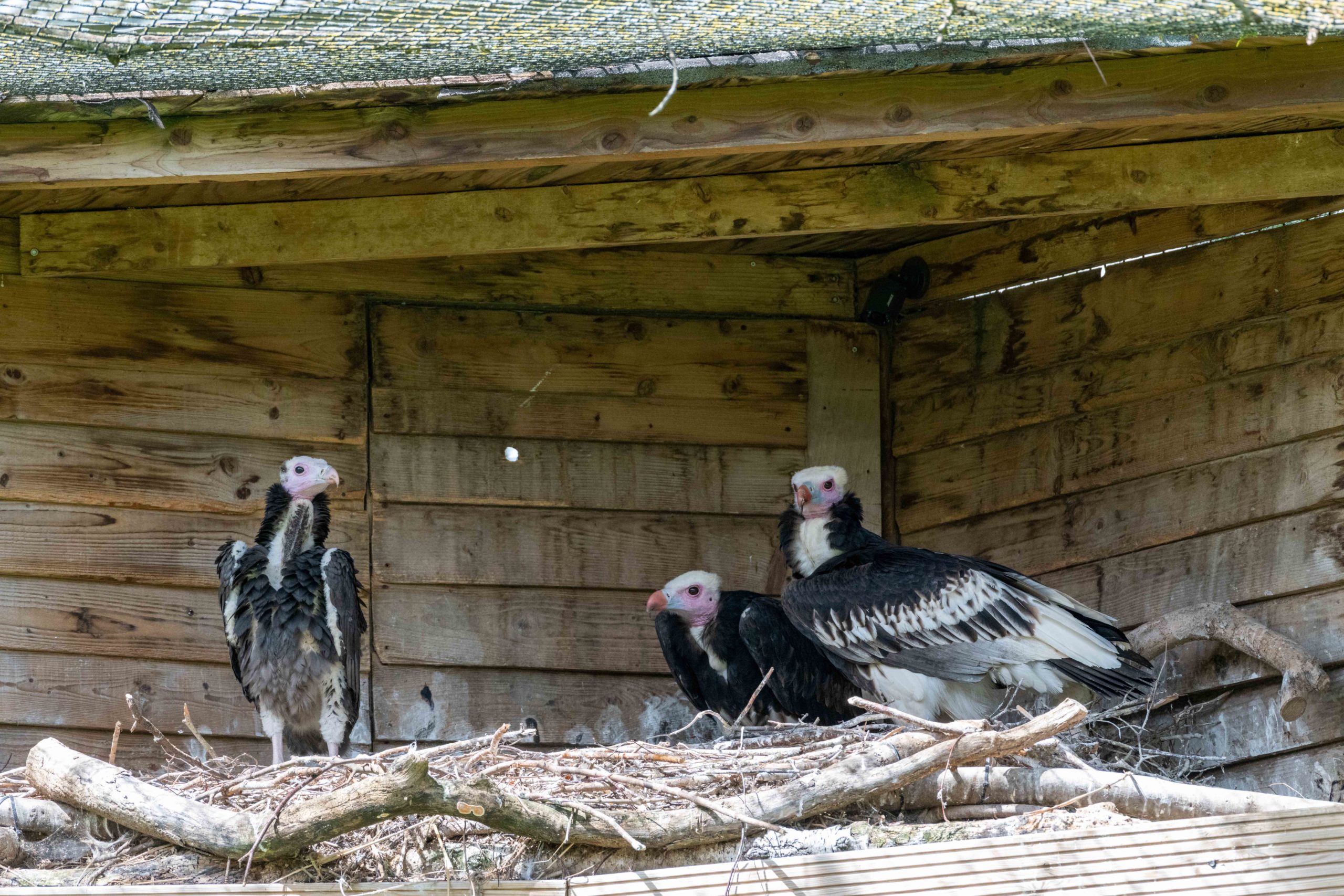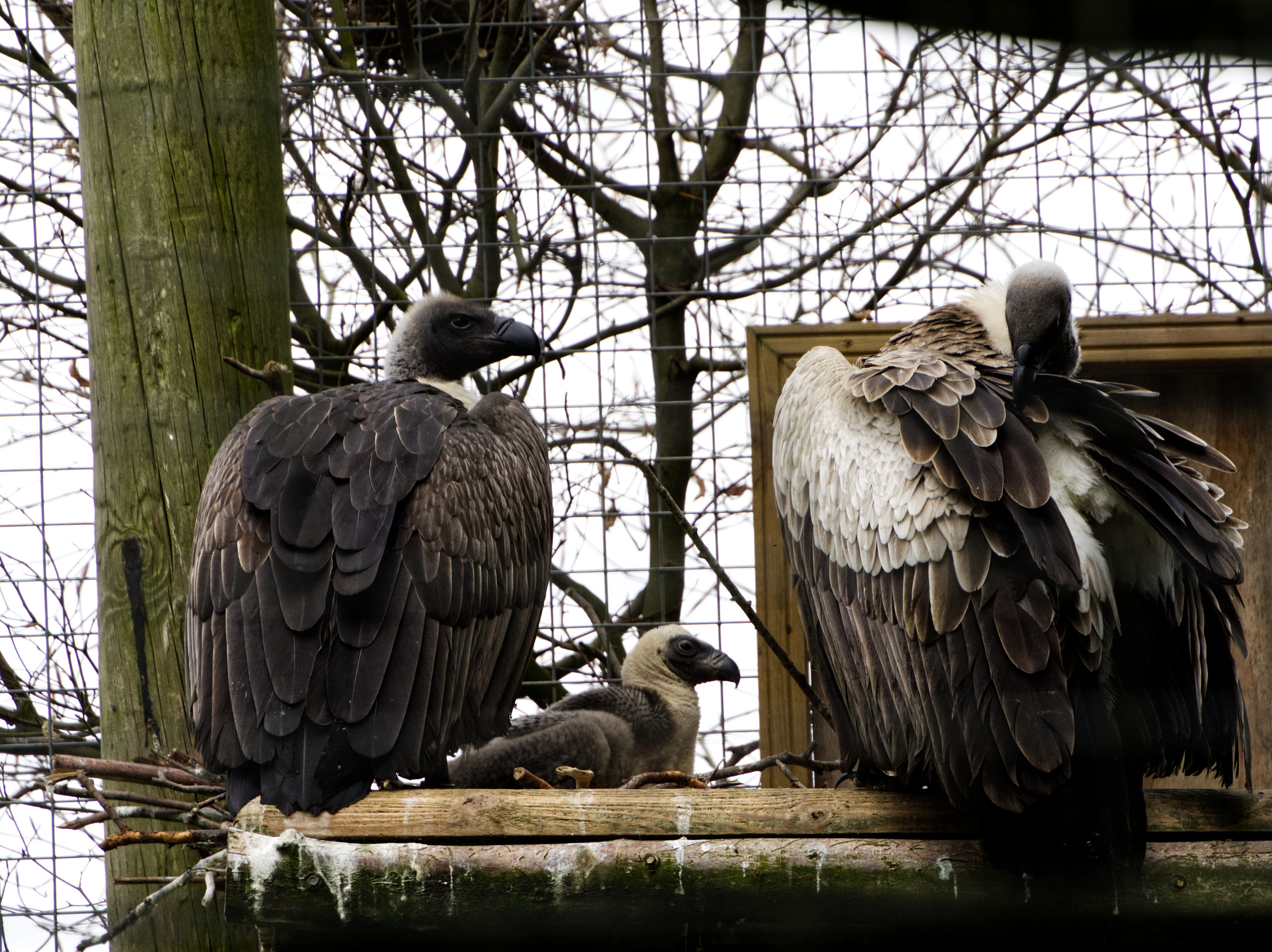 Breeding Season
"We have certain processes in place when it comes to breeding season; what happens when our chicks fledge the nest, and how these birds then become a really healthy addition to the breeding programme themselves.
Firstly it is very important to create the right environment for these birds so that they are relaxed, confident and healthy, therefore feeling comfortable enough to produce chicks. These vulture species won't begin breeding until around six or seven years old, so we have a really nice window to be able to get to know our birds and work with them for flying and fitness (which is a helpful aspect to their ability to breed).
Once they join the breeding programme, it varies where they may end up living. They may stay with us at the Trust, or it might be the case we say a bittersweet goodbye as they move to another collection to be with a suitable mate to successfully boost the population in collections across Europe.
When an egg is laid by a pair of our vultures, we monitor them very closely by viewing them from afar using CCTV cameras installed near nests as not to disturb the birds during the important incubation process.
For African White-backed Vultures and White-headed Vultures, you are looking at around 55-60 days incubation (which is a long time isn't it!). The duty is shared by both parents, and when one is sitting  on the egg, the other is normally close by for protection (this is very important in the wild of course but not something that our birds have to worry about really).
These vultures will only lay one egg at a time, and this will only happen once a year unless the egg fails naturally or, if in the wild, the egg is predated or damaged by another animal. Vultures are super-skilled parents, and even though they are one of the largest birds of prey around, they manage to care for this very delicate little egg in the most precise way.
Should the egg hatch, we will leave the chick with its parents. They do a fantastic job of rearing that young bird until it is fully grown, which only takes around 12-14 weeks (this never ceases to amaze me considering they are such huge birds!).
When the chick eventually grows enough to use its wings, it will make the decision to leave the nest for the first time – a process called fledging. This is normally quite a clumsy affair but they quickly learn how to negotiate the art of flight!"
Getting to know your own vulture
"After a year left being reared with the parents, quite a reality check hits when the next breeding season comes along; Mum and Dad all of a sudden decide that they have done their job and it's time for little vulture to move on to find independence (I think many parents will relate to this moment in life!).
At this time in the wild, the juvenile would normally be pushed away from the nest at this stage. So we closely monitor the birds for the signs this behaviour is starting to happen, and at the right point move the vulture from the breeding aviary to another vulture aviary here. This is a slightly different setup for each bird, but we try to give the birds as many opportunities to socialise with other vultures in order to get used to the complex hierarchy of being a social species of bird of prey. This is where they find their place within the structure and start to become their own bird.
During this next phase of the vulture's life, what we call the 'getting to know your own vulture' phase, the young bird normally lives with other more experienced vultures that are already working very closely with the Bird Team. This is when a close bond with the Bird Team begins."
Working with the Bird Team
"We have found that vultures are very good at watching what other birds do and learning from them.  Our research work underpins this too. So when we want to begin working closely with these young birds, it becomes a much smoother process.
We begin our closer work with these birds by starting to bring them out of their aviaries and into our arenas for flying and fitness. This is where the connection between Bird Team members and the bird is so important as we need to earn their trust so much so that they will fly back!
Vultures are always searching for a tasty treat, so working with them using positive reinforcement works very well. It's a bit like having a greedy dog at home – we see the bird's natural behaviour we are looking for and then reward them with some dinner at just the right time. The birds then remember this the next time, which enables us to build a routine for their flying.
When we are working with really large vultures like these, it can be difficult to work with them together as the space for take-off and landing needs to be quite big. To accommodate this, we have some brand new towers being installed in the arenas that enable a space high up off the ground so that multiple large vultures can fly together safely. This is hot off the press and only just in the final development stage, but all very exciting!"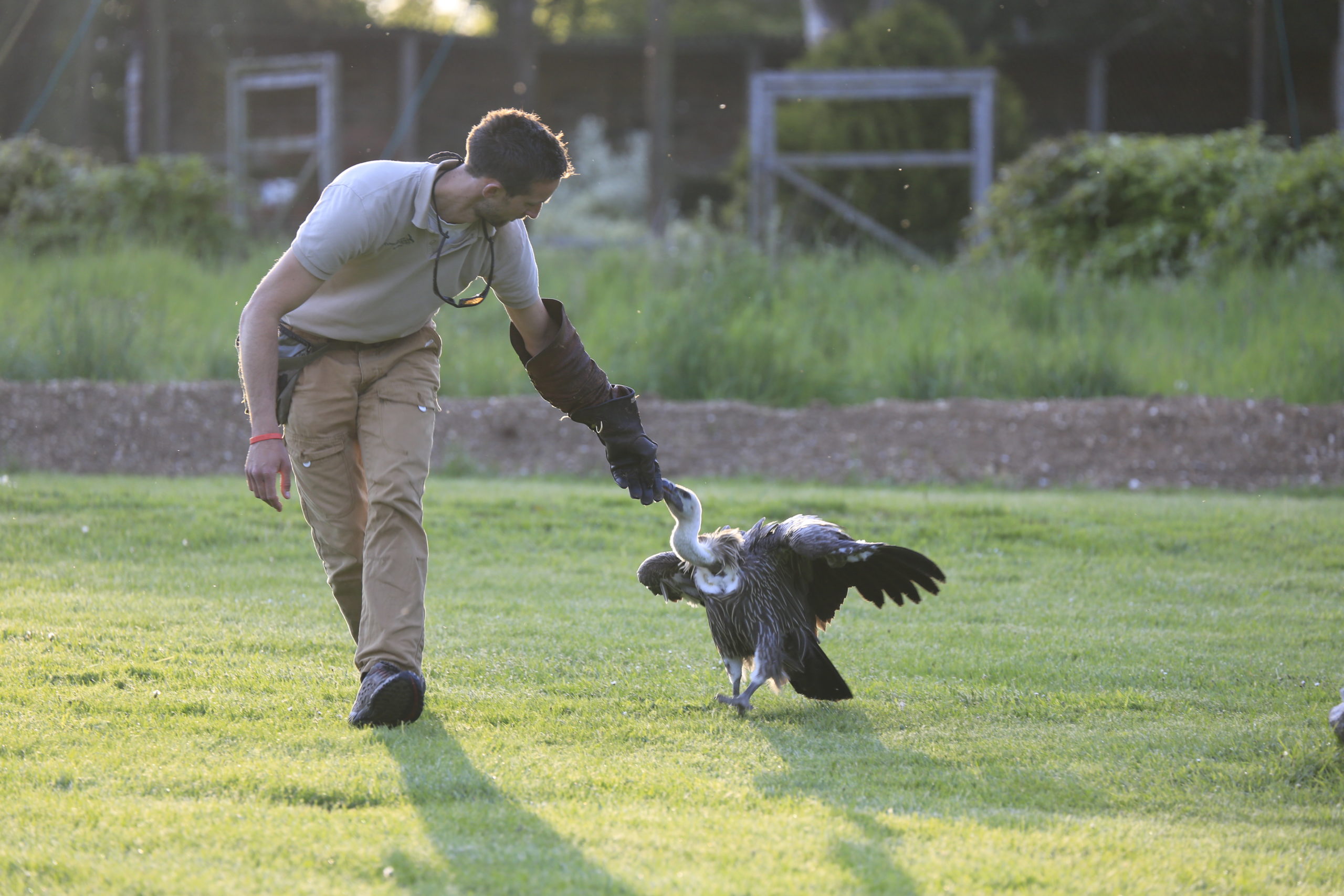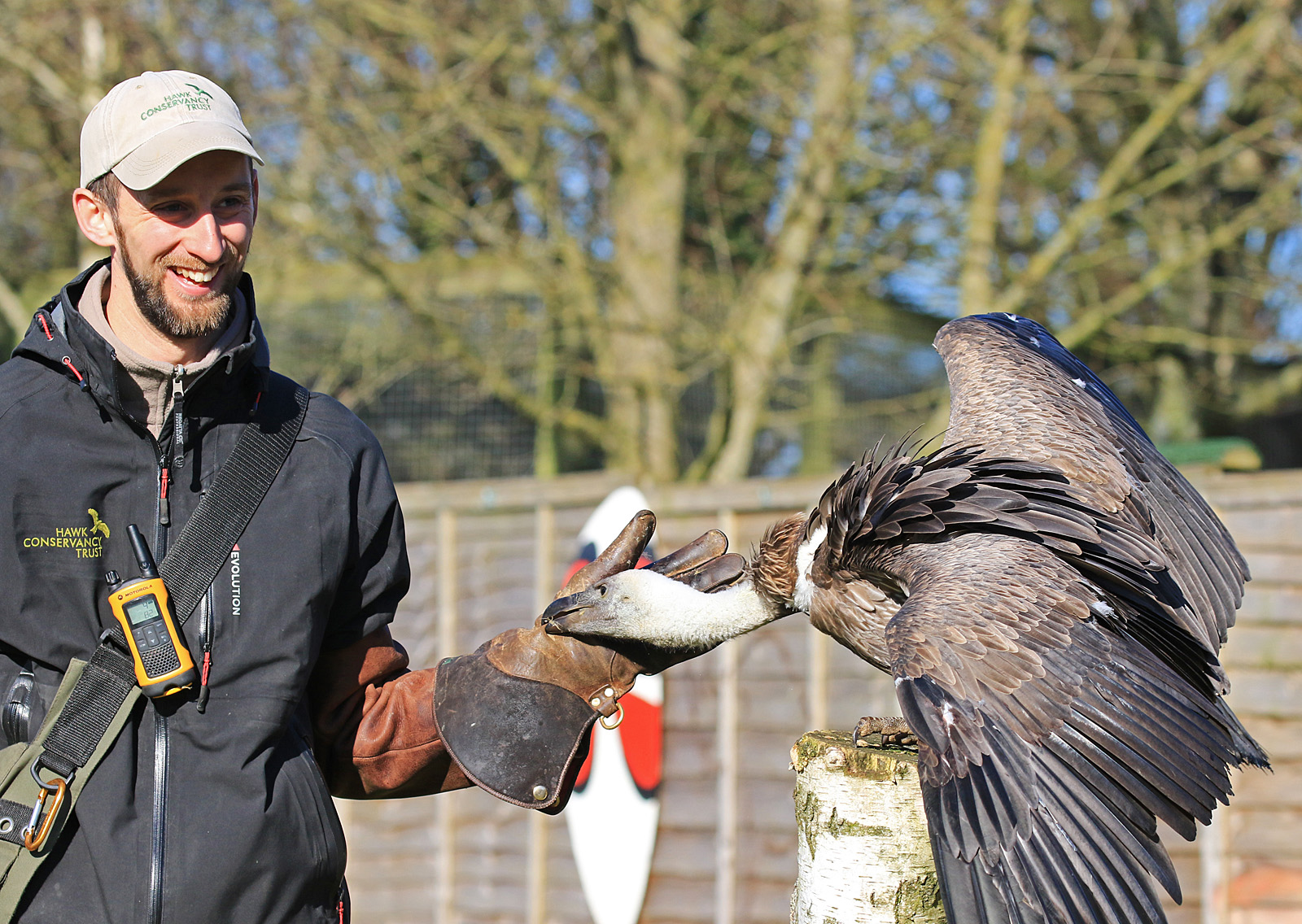 Our Birds
"You will recognise some of the birds that have been a part of these breeding programmes at the Trust. Our White-headed Vultures Arthur, Mamba and Ravenclaw are all regular additions to the shows, and it looks like Arthur and Mamba are starting to create a nice pairing! We are hopeful to see how this develops. The White-backed Vultures, Clay, Simba and Melchett, our chick from last year, are all a part of this programme too.
It's a very satisfying process to be a part of for us from the Bird Team here. We get to see this tiny little vulture hatching out of its egg and then, after lots of time, effort and close contact with that bird, it hopefully pairs up with another bird to one day lays its own egg; continuing that great circle of life.
Flying our vultures also helps us to inspire and engage visitors to the importance of their survival in the wild, and how we can play a part in this. I feel the environment we have created for our vultures enables us to mirror many of the life experiences that their wild cousins are doing; it's an absolute joy to be a part of it!"