Patrick and Sarabi: A Perfect Pair
Patrick King is one of the newest members of our Bird Team, joining us last summer after spending time volunteering a few years ago. Since joining the Hawk Conservancy Trust, Patrick has been getting to know all of our birds. Carry on reading to hear from Patrick about working with one special bird – Sarabi the Lugger Falcon.
"Some of you may not recognise me as an overly familiar face, but I'm also not brand new anymore! It's been a wonderful nine months that I've  spent with the Hawk Conservancy Trust so far and I've loved every minute of it; whether that be helping out on displays, running experience day sessions or simply helping out with all sorts of tasks that need attention from the day. And, of course, I definitely mustn't forget about working closely with our cheeky Burrowing Owls!
Since starting, I've been given the amazing opportunity to work alongside Sarabi, our beautiful Lugger Falcon. I've been working closely with her over the last few months on her fitness and confidence-building with the overall aim for her to fly in front of a potentially large crowd, hopefully joining the ranks of the birds we fly here at the Trust during our 'Meadow Encounter' and 'Brilliant Bird Brains' sessions.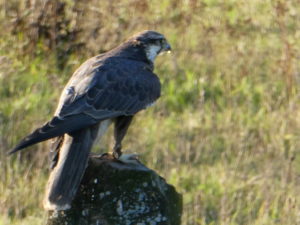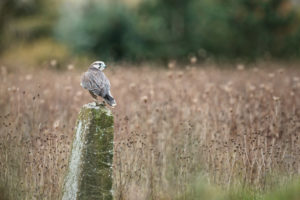 Lugger Falcons (or sometimes called the Laggar Falcon) aren't necessarily as familiar to most people as the world-famous Peregrine Falcon, for example, or the Lanner Falcon.  Lugger Falcons are primarily found across parts of Asia, notably India, Bangladesh, Nepal & Pakistan. They are a truly beautiful species and deserve just as much love and attention. Especially because they are a declining species in the wild. This is due to the over-intensive use of pesticides in the region and a direct result of illegal trapping.
Sarabi is definitely a wildcard. Don't get me wrong, she is a lovely bird, but her temperament can change like the wind. One day, she will be right as rain, then the following day she can be as mad as a box of frogs with seemingly no rhyme or reason. Learning all of her nuances whilst earning and maintaining her trust are at the core of our work together, alongside building her fitness and confidence.
Not only does this give her the opportunity to take to the wing and build her fitness on a regular basis, this also gives me a regular opportunity to enhance and refine my lure-swinging skills. It is a rather tricky thing to master, which in the long run can take many years to perfect. If you have visited before, you may very well have seen other members of the Bird Team flying our falcons over the years and quite simply put; it looks easy when it is done well. I can assure you, it definitely isn't!
There have been times – especially in my early days before working here at the Trust when I was learning this skill – when I have looked utterly ridiculous trying to learn. I've lost count of the number of times I've hit myself in the head with the lurepad or gotten myself all tangled up in the lure line! I do not profess to be a great lure-swinger, but the more Sarabi and I work together, the better I will inevitably become. Regular practice and developing the muscle memory have been key to developing this skill for sure.
She is progressing well and is very nearly at the point where she will be confident flying in front of a crowd, but, it is all at her pace. Hopefully, with more flying sessions and initial exposure to very small groups of people, she will have the confidence to stoop to the lure and wow you with her aerobatic dexterity that falcons are very much renowned for. Hopefully she and I with both be better off as a result of this process!"