Important Information
Pre-booking is essential (for members and non-members). Tickets are non-refundable and non-transferable.
Inevitably, we've had to make changes but the great news is…there will be three of our fabulous flying displays each day.
There are two really important things that we would like to happen during your visit:
For you to have a really enjoyable day in the fresh air with us
To keep our visitors, staff, volunteers and animals as safe as we possibly can
We need your help to achieve this. Inevitably, we have made some changes to a day at the Trust but we're very confident you can have the usual uplifting day with us. Please work together with us to help everyone have a great day with our birds and stay safe and healthy.
Here's a handy summary of the key things for you to know
What we need you to do
Enjoy yourselves – have a fantastic time with us
Please don't come if you have or suspect you have COVID-19 symptoms, or you are awaiting test results
Pre-book your visit
Wear a mask inside
Keep social distances
Sanitise your hands when asked or you feel it is needed
Touch as little as possible around the site and in the shop
What we're doing
Providing three amazing flying displays
Cleaning lots and often, including toilets
Providing for social distancing
Closing areas and stopping activities that make social distancing not possible
Serving delicious food and drink from Feathers Restaurant and our Shepherd's Hut
Providing lots of sanitiser and hand-washing facilities
Using screens and face-coverings for staff
Before coming to the Trust
Please do not visit if….
Please do not come and visit the Trust if you have or are living with anyone with symptoms of COVID-19 or have been diagnosed with COVID-19 in the last 14 days. Please do not visit if you or anyone you are living with is awaiting test results until you have completed the isolation period or the test is negative. COVID-19 symptoms can be found on the government website.
We advise you do not visit if you are in the vulnerable or shielding category.
Pre-booking only
In order to provide space for social distancing at our displays and around our grounds, we are having to restrict the numbers of visitors coming to the Trust each day to a number far fewer than we would usually welcome into the park. To manage this, it will be necessary for all visitors (members and non-members) to pre-book their visit to the Trust. We won't be able to allow any visitors to come into the Trust without a booking – book now.
Pre-booked tickets cannot be refunded and are non-transferable. If you are unable to visit due to experiencing COVID-19 symptoms, please contact us as soon as you experience symptoms and we will make arrangements with you. We hope you understand that we may ask for some confirmation.
We will continually monitor the number of visitors we can welcome to the Trust and will release tickets periodically.
If you already have a voucher for a day visit at the Trust, this can be used to pre-book your visit online. If you experience any difficulties, please don't hesitate to call us on 01264 773850 and we'll help to get you booked in. If you have purchased e-tickets, these cannot be used to pre-book tickets online, please call to pre-book.
Members
We're delighted to invite some of our most loyal supporters back and hope that you will understand that we need to ask you to pre-book your visit to allow us to manage the number of visitors at the Trust for safe social distancing. You can pre-book your visit online, via email at info@hawkconservancy.org or over the telephone. We will not be able to respond as quickly via telephone or to emails as the online booking system, we therefore recommend you book online.
To be able to book online, please check the type of membership card you have. There are three types;
New (Green)
Old (White)
Temporary (You won't have been issued a card yet, your reference begins with TMP)
Those with new cards or a temporary reference will be able to book online. Those with old cards will need to contact us to be issued with a new card to be able to book online. Please contact us on 01264 773850 or info@hawkconservancy.org.
The pictures below show you the older (white) and newer (green) membership cards to help you identify which you have.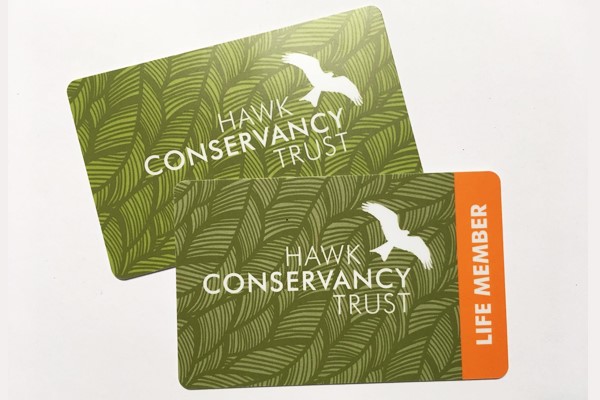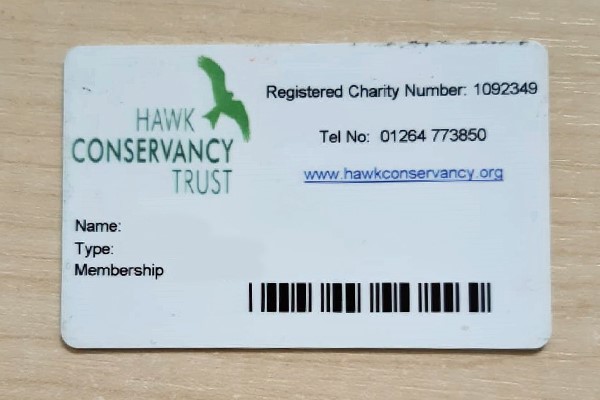 We are issuing a plea to all members to be respectful with the number of visits you book. Please only book visits you know you will use.  If you are unable to use your visit please contact us at least 24 hours before your visit to give us the potential to re-allocate your visit. We are aiming to provide generous access for our members as we know you are our greatest supporters.
At this stage we would like to work with our community of members to help support us with this during these challenging times. If we notice a pattern of members not turning up for pre-booked visits, we will be forced to re-assess this approach and investigate giving members an allocation of visits and/or asking for a fee to visit. We really don't want to have to do this! We hope you understand and we understand that you are all very keen to come back and use your membership and would like it to be fair for all.
Bring your waterproofs
Our sheltered areas aren't spacious enough to allow for social distancing unfortunately, therefore we recommend packing your waterproofs for those rainy days because these areas won't be available to duck underneath.
Once you arrive at the Trust
Social distancing
Please respect others and keep a safe distance in all areas of the Trust. We have put many measures in place to make this as easy as possible, but we need your help with this. If you have any concerns with social distancing, please speak with a member of staff.
Social distancing with children
We understand this is a challenge, however, we'd like to ask those with children to supervise them at all times to make sure they are social distancing too!
Car parking
As we are not able to welcome as many visitors as we would do normally to allow for social distancing, there will be plenty of space for you to park your car away from other cars to allow you to get in and out without coming into close proximity with others.
On arrival
Only those customers (including members) who have pre-booked will be able to visit. When you have parked, you will be asked to queue outside. We've installed some helpful posts to allow for social distancing. You will be asked to use hand sanitiser before you come into the Trust.
As you reach reception, a friendly member of our team, positioned behind screens, will check you in and point you in the right direction. We ask that only one member of your party approach the desk and that the remainder of your party wait for you to be checked-in. A one-way system through the shop will be in place. The number of people moving through the shop/reception will be carefully managed to reduce the number in this area at one time. We have face-coverings, sanitiser and tissues for purchase with a card if you wish, simply ask at reception.
Our daily displays
We know the highlight of your day is our flying displays and although we have had to make modifications to the Trust overall, we're delighted to offer three flying displays that will take place every day during the following times:
11:30am – Wings of Africa
2pm – Valley of the Eagles
3:45pm – Woodland Owls
Please add additional time to make your way to the displays to allow for queues to be seated.
We're unable to offer any other activities at this stage, although this is under constant review and we're hoping to add more to our daily timetable when we are confident this can be done safely and the restrictions allow it.
Opening and closing times
Park opens for admission: 10am – 5:30pm
Last admission: 4:30pm
Feathers Restaurant open: 10am – 5:30pm
Trust Shop open: 10am – 5:30pm
Face coverings and screens
To protect our visitors and staff, some members of our team, depending on their role, will be wearing face coverings and gloves. We have also installed protective screens in our restaurant and shop. As required by government regulations, all visitors will be asked to wear masks or face coverings for admission in our shop, in Feathers Restaurant and in our toilets.
Cleaning
We pride ourselves on keeping the Trust clean and we have put extra measures in place to clean more thoroughly than before. There will be frequent cleans of high-touch points and toilets whilst the Trust is open as well as a deep clean of key areas at the end of each day. You will see lots of staff cleaning regularly during the day.
Touching
Where possible, please avoid touching things around the grounds. There will be helpful reminders in key spots including the signs, screens and windows. Please help us by not touching items in the shop or restaurant unless you are going to be purchase them.
Moving around the Trust
We have changed some of the entrances and exits around the site to reduce the risk of coming into close proximity with others. We have plenty of signs dotted around, making it really easy to follow and there are plenty members of our team to help everyone follow the correct pathways. There are some one-way sections; around the National Bird of Prey Hospital™, the Meet the Burrowers tunnel and the Discovery Barn.
Closed sections
Some areas are closed including the viewing hides and garden section.
Playground
The children's playground is open and we're cleaning it regularly with disinfectant spray. Please use hand sanitiser both before and after using the equipment. When using the play equipment do not touch your face. There are a maximum number of users on each piece of equipment which are explained on site. Please limit your use if you see others waiting so that as many children as possible can play. Consumption of food and drink within play areas is not permitted.
Queues and seating arrangements for the displays
We will ask you to queue in certain places to ensure that we can maintain social distancing. These queuing points will be found on arrival, and at the toilets, the restaurant and Shepherd's Hut, the displays arenas and the shop. Our staff will manage seating arrangements in the arenas to ensure sufficient spacing between visitor household parties (we'll seat you with your group if you are a household or bubble that the government allows to meet without social distancing). There will also be queuing markers to help you out. We will ask you to use hand sanitiser before entering the arenas.
A selection of hot and cold refreshments
We'd love it if you can buy food and drink from us, it will really help bring in some money at a time when we've lost a lot!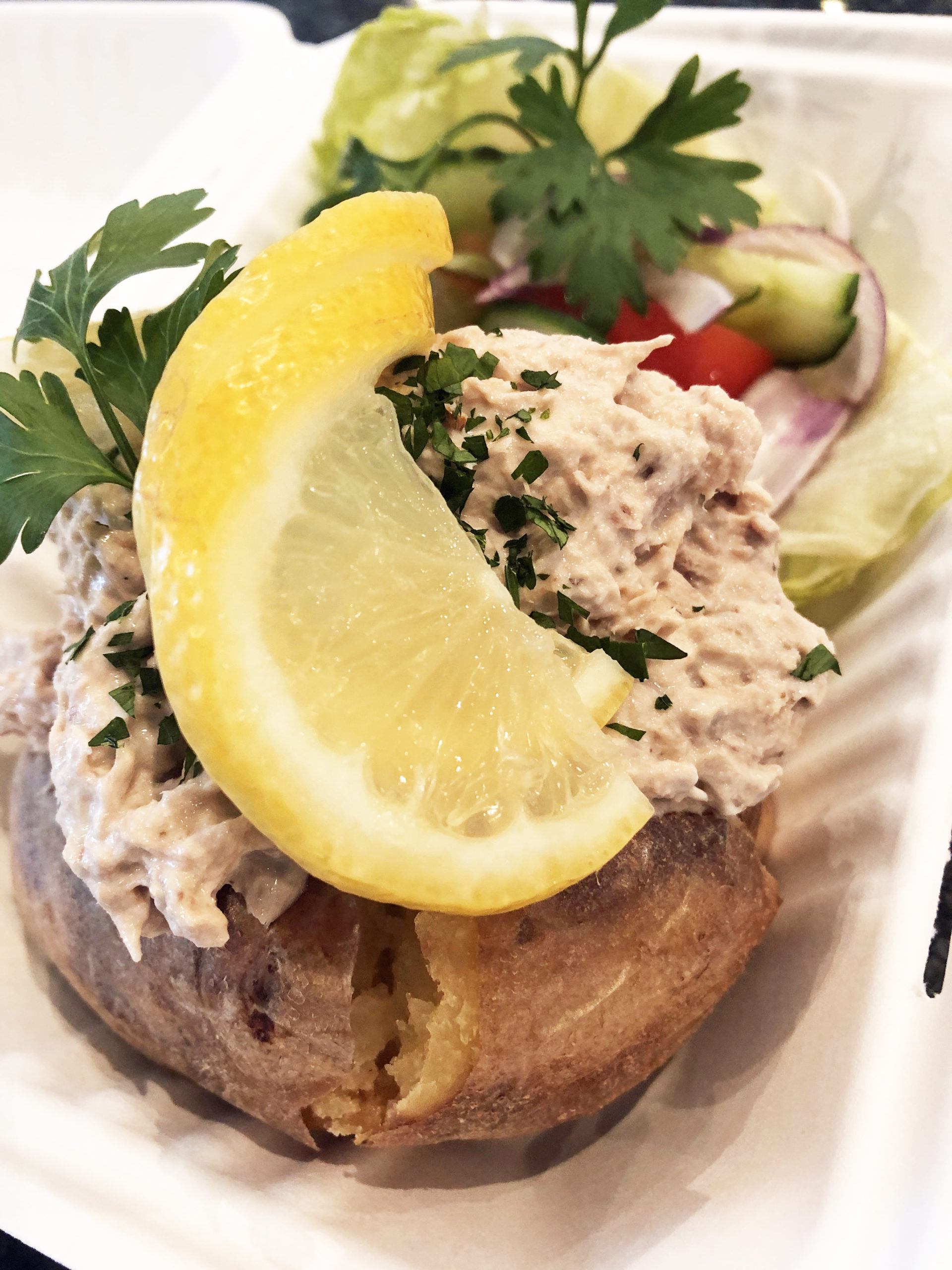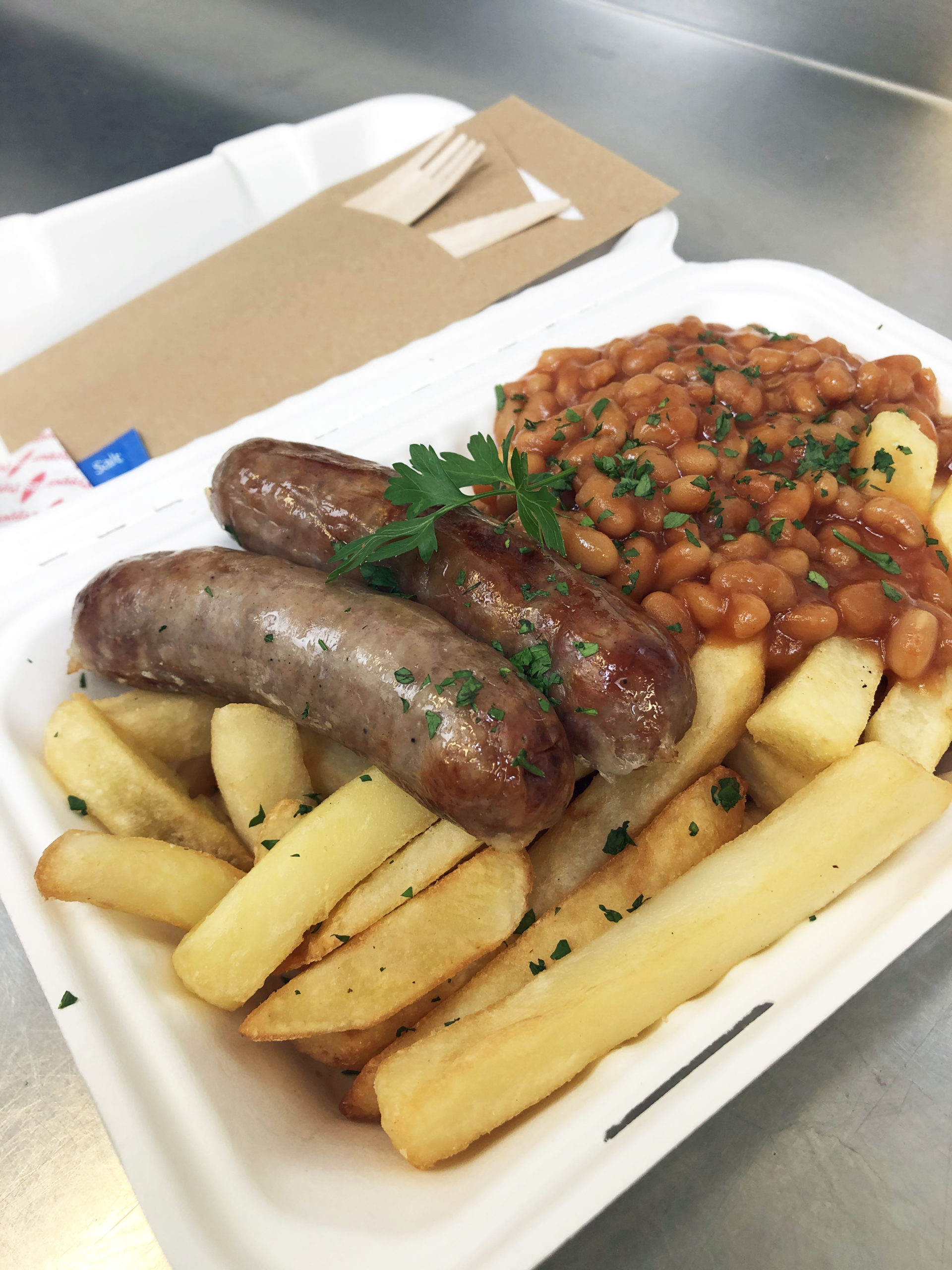 Shopping
The number of people in the shop at any time will be monitored to facilitate social distancing, so there may be a queue to re-enter the shop. You will be able to shop and leave, or shop and return to the park if you wish.
Toilets  – We know this one is important!
We've put lots of measures in place to make our toilets as clean and safe as we can. Our toilets will be cleaned regularly throughout the day. We'll be managing the toilet queue and asking each person to sanitise their hands before they visit the toilet as well as advising to thoroughly wash hands before leaving the toilets. We're also asking that you close the toilet lid before flushing. We've closed off some of our toilets to allow for social distancing and to streamline our hygiene processes. We've disabled our hand dryers and replaced them with paper towels because they are less likely to spread germs.
Baby changing and accessible toilets will be open for use in Feathers Restaurant.
Hand sanitiser and hand-washing
We have plenty of sanitiser stations around the Trust, please don't hold back and use it liberally whenever you feel like it. You will be asked to sanitise your hands at various points; on arrival, before visiting the toilet and as you enter our display arenas and restaurant. Please feel free to use it more often and take a good squirt and rub in for 20 seconds until it's dry. We also sell packs of sanitiser, masks and tissues in the shop. We have hand-washing stations in our toilets and outside the Burrowing Owls aviary.
Card payments only
We are only able to accept payments made by card (except Amex and Diners Club cards) and encourage contactless payments whenever possible. Card machines will be disinfected in between use, if chip and pin is required.
Other FAQs
Experiences/Encounters
On the day of your visit, you can take part in our popular Meet the Burrowers VIP Encounters. Join our team of Burrowing Owls in the 'burrow' where they will fly, hover, walk and run around you. You'll get a great view as they land and hop between you, they may even use you as a perch!  Just £19.50 per person—book your place in the shop on arrival or via our website. You will need a face covering for this encounter session. Find out more and book.
For more information on the other experiences we are able to offer, please call 01264 773850.
You can also book in for a special afternoon tea from Feathers Restaurant. This must be booked at least one day in advance and can be booked over the phone. Please call us on 01264 773850 to book.
Events
Please keep an eye on our events page and social media for details of events we're already able to offer.
Afternoon Tea with Admission Ticket Vouchers
If you already have a voucher and would like to book, please call 01264 773850. This cannot be booked online.
Carers
If you are visiting as a carer accompanying a visitor will special needs, please call our team on 01264 773850 to book your visits. Carer tickets cannot be booked online.
Free tickets issued for adopters
Thank you for adopting one of our birds. If you have not used your free ticket that was issued as part of your adoption, please call a member of our team on 01264 77350 and we can pre-book your visit. We have extended the validity of your admission tickets to cover the closed period and to give you a longer time to use your ticket.
Free tickets or discounted vouchers/entry/admission
As we are having to restrict the number of visitors, we're sorry that we're not able to accept discounts until we have sufficient capacity to accommodate them. This includes, but is not limited to, Hampshire Top Attractions discounts and Blue Peter discounts. We are unable to accept free tickets that you may have been granted in special circumstances either. We hope we can change this as soon as possible.
Tesco Vouchers
We are unable to accept Tesco vouchers in exchange for a visit to the Trust at the moment. If you have already exchanged your Tesco vouchers for a visit to the Trust and have any queries relating to existing unredeemed vouchers, please contact Tesco on 0800 591 688* or 0330 123 1688** Option 2, Monday to Friday: 8am to 8pm and Saturday: 8am to 6pm.* Free from BT landlines. Other providers vary. Calls may be recorded.** Charged at local rate from mobiles and private telephones.
Any other questions
If our telephone lines are busy, please bear with the team answering the phone.  If you can, please email us on info@hawkconservancy.org as a first port of call if you can't find your answer above.
PLEASE HELP US – NOW MORE THAN EVER
We need your support more than ever before. Thank you so very much for your support during these difficult times. As many of you are aware, we rely on the income from our visitors and with our doors for much of this year, we're feeling forced to ask for support wherever possible. If you would like to and are able to support us with donations, we would be very grateful for anything. We generate the majority of our income from our visitors and this funds the vital conservation work we do. The lack of income from being closed and having limited numbers is severely impacting our ability to carry out our vital conservation work. For a small organisation, we make a big impact with our mission – the conservation of birds of prey – please help us, if you can, continue to do this. Donate online now.
Thank you