Visit the Hawk Conservancy Trust this autumn
Plan your next visit to the Hawk Conservancy Trust for this autumn and make the most of all we have to offer. Book your visit now!
Spooky Owl Show
Saturday 24 October – Sunday 1 November
Step into our mystical woodland and enter the amazing world of owls this October half term. With tales of folklore and traditions, spooky decorations and ghoulish goings on, we'll be celebrating these wonderful night hunters in this special flying display. As part of your day, children can also take part in our FREE Halloween trail and spot pumpkins around the sight to reveal a mystery answer. All included as part of a day visit to us this half term when we'll also have two other flying displays each day, as well as a Top Trumps activity trail and bird of prey themed playground.

Enjoy our summer displays whilst you can
From Monday 2 November, we will be moving to our winter timetable with different flying displays and a whole new team of birds. Until then, you can still enjoy the superb stars of Wings of Africa dazzle in this moving display, including seeing Angola our Secretary Bird as he successfully decapitates a rubber snake, as well as witnessing Othello our African Fish Eagle as he snatches a treat from the water with such precision, delight at the sight of our incredible African White-backed Vultures Cassius and Clay, and watch in awe as we close this display with the sensational finale comprising our team of Yellow-billed Kites and White Storks.
If you stay for the afternoon, be sure not to miss our World of Birds of Prey display with final appearances for the year from Boe our Egyptian Vulture showing off her amazing high flying and the team of cheeky, low flying Hooded Vultures.
*All displays are subject to weather conditions and change.
Plenty of open space
Bring the family to enjoy our natural and spacious grounds. We have plenty of measures in place to ensure social distancing and are limiting our daily total visitor numbers. Find out more:
Meet the Burrowers
Make your day extra special and book onto a 'Meet the Burrowers VIP Encounter'. Guests will be invited into the 'burrow' and a member of our team will share fascinating insight about these amazing birds as they move freely amongst the guests. Hang on to your hats as the owls can fly very close and sometimes are daring enough to land on a visitor's head – be prepared for unexpected encounters. The VIP experience takes place every day at 4:30pm.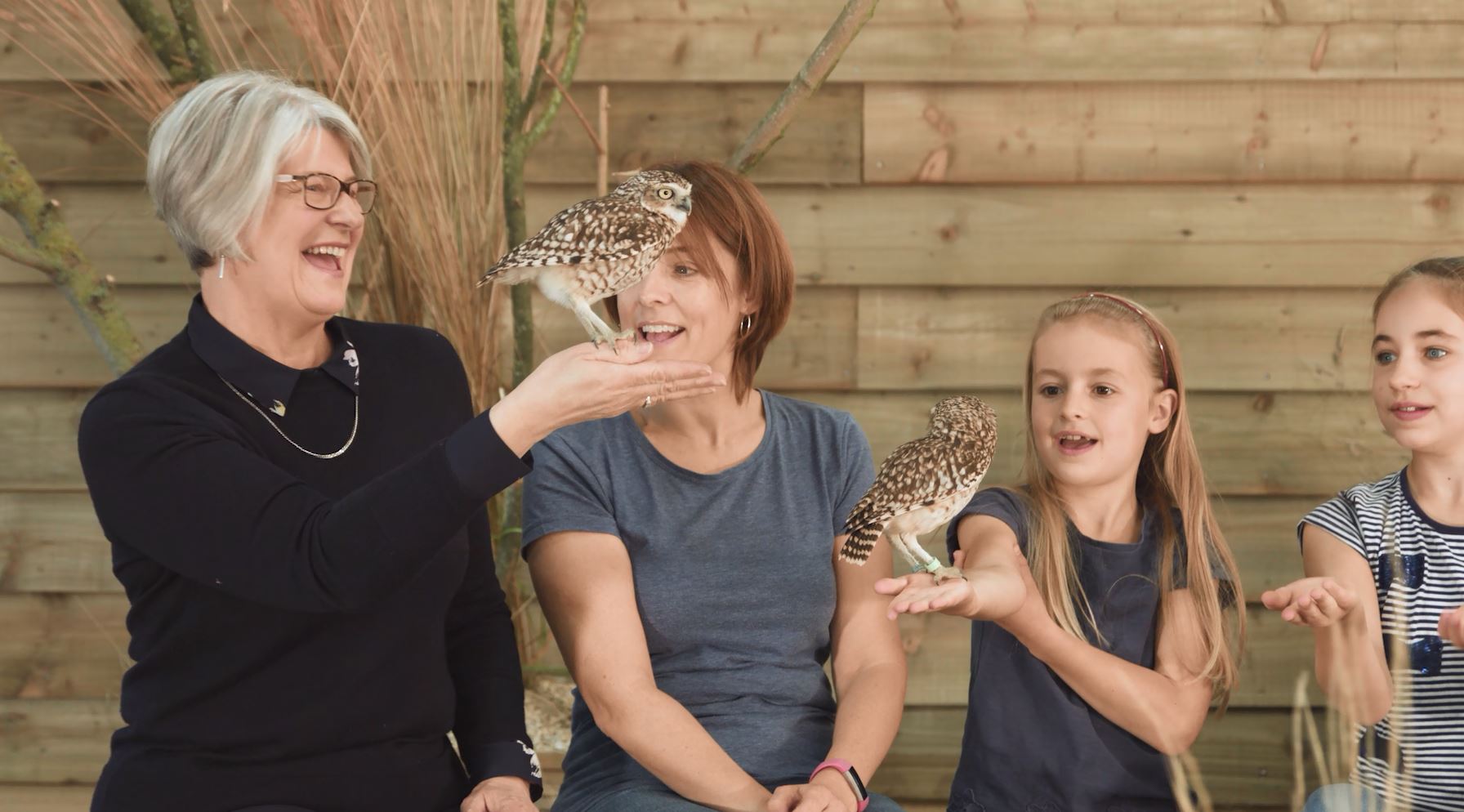 Top Trumps
We have a fabulous new Top Trumps children's activity trail for 2020. Children received a FREE Super Top Trumps card and activity sheet on arrival that doesn't feature in the pack to play with as part of the trail. They can then play with this against the 10 giant cards hidden around our grounds. It's free to take part in as part of your day, simply collect your activity sheet on arrival.