Meadow species
The seven acres of wildflower meadow was created in 1995 and named in memory of the Trust's founder, Reg Smith. Reg's Meadow is a habitat of amazing diversity and this habitat is listed in the National Biodiversity Action Plan as one of 65 that are a priority for conservation. In this edition of HawkTalk, we want to celebrate some of the amazing species of flora and fauna that can be found in our meadow. When we acquired the piece of former agricultural land, we sowed it with two pillowcase sized bags of seed, containing 19 species of wildflowers and seven species of grasses. In the 25 years since its beginning, we've recorded a stunning 732 different species of flora and fauna in the meadow, and below are some of our absolute favourites although of course it is the rich diversity of species that really make Reg's Wildflower Meadow so special.
The species that found each year depends on the weather over the previous winter and spring. Some things, both plants and invertebrates, appear every year without fail, while others disappear only to re-appear in a later year. This change in occurrence is particularly true of the invertebrates, especially butterflies and other insects. Monitoring activities are undertaken by dedicated volunteers, Monica Johnson and Brigid Campbell, who have an intimate knowledge of the species found there.
Moths
Since we started monitoring moths at the Trust, we've discovered over 350 species! The most spectacular moths regularly caught in our moth traps are Elephant Hawk Moth (Deilephila elpenor) and Poplar Hawk Moth (Laothoe populi). Both fly at dusk and during the night. We have caught many other very pretty moths but these two stand out. There are also moths that fly in the daytime, including Five-spot Burnet (Zygaena filipendulae), bright red as it flies past. We used to have many of these every summer but in the last two or three years there have been very few. Another regular daytime moth is Silver Y (Autographa gramma), a migrant visitor from the continent that arrives in large numbers each year.
Below images: Elephant Hawk Moth (Deilephila elpenor) and Poplar Hawk Moth (Laothoe populi)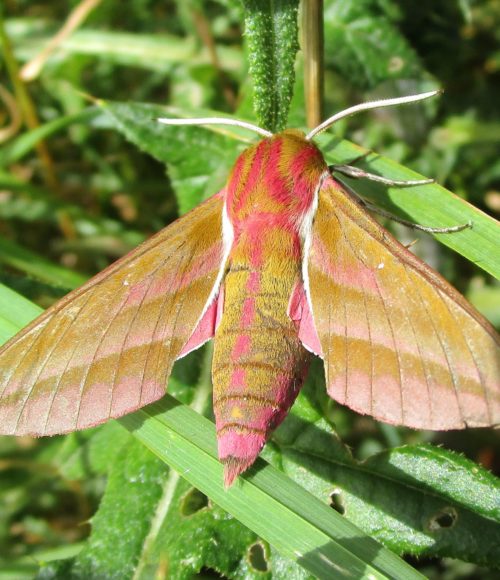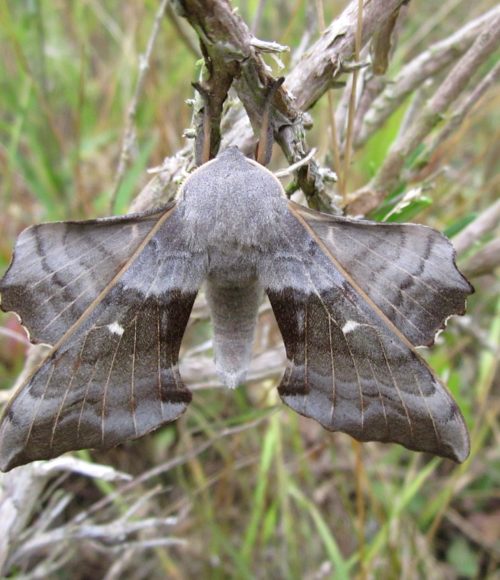 Bees
The meadow in the spring and summer is full of bees – Honey Bees (Apis melifera) from our hives, some mining bees and many bumblebees. We've had both Tawny and Ashy Mining Bees in the meadow for years – the Ashy are often found in the path on the left hand side, where their little holes can be seen. They also nest in among the grass. The commonest bumblebee we see is Red-tailed (Bombus lapidarius) and we also have good numbers of Buff-tailed (Bombus lucorum).
Below images: Tawny Mining Bee (Andrena fulva) and Ashy Mining Bee (Andrena cineraria)