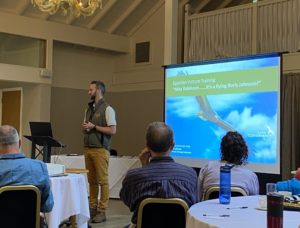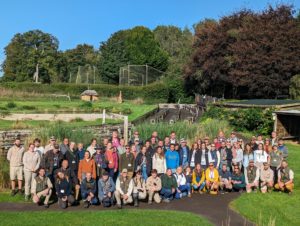 In September, we hosted the International Association of Avian Trainers and Educators (IAATE) UK symposium – the first of its kind! Gary Benton, Tom Morath and James Knight represented the Hawk Conservancy Trust at this event, giving talks about how we work alongside our incredible birds in flying displays and events. We also invited symposium attendees to the Trust for the day to get an insight into life at the Trust! Hear from James Knight all about his experience.
It has been a busy couple of weeks here at the Hawk Conservancy Trust! With the buzz of the summer holidays coming to an end, it has been lovely to welcome many of our long-term members during this time as the days get shorter and nights darker.  We've been busy watching our three incredible vulture chicks grow and develop, making sure they have everything they need, with their fantastic parents doing such an amazing job of looking after them!
In addition to our usual activities, there has been an extra bit of excitement going on behind the scenes that has just come to an end. The Trust teamed up with the International Association of Avian Trainers and Educators (IAATE) to host the first ever UK symposium!
Until this event, IAATE conferences had mostly been held in the United States and mainland Europe so it was an incredible privilege to be involved with setting up this event.
The event itself saw world experts all convening here, in the south of England, for a three-day event. Speakers from all fields of avian care were invited to speak about their areas of specialism, including trainers working alongside birds for education and demonstrations and other bird conservation charities. Topics ranged from day-to-day avian care to field researchers explaining natural behaviour and how we as keepers and trainers can create the best conditions to allow our birds to demonstrate them.  Three members of the Trust team presented a selection of topics from training specific, natural behaviours (such as soaring with Boe the Egyptian Vulture), considerations for working with our owls after dark, as well as working with our birds to take part in their own health checks and show off natural behaviours.
On the third day, the format moved away from presentations and the Trust welcomed these fellow professionals to our grounds to showcase what we do and take a deep dive into our conservation projects and demonstrate the high level of care we give to our birds.  We also held a few extra workshops during the day, showcasing how we care for our cheeky Burrowing Owls, highlighting how we manage some of our groups of birds, as well as a workshop about flying falcons with some of our resident professionals Cedric Robert and Mike Riley, sharing tips from their years of experience.
It was a fantastic opportunity to be able to talk about our work and have an open conversation with so many like-minded individuals about how we can face challenges in new ways and work together in the future.
It was an amazing event that we were all thrilled to be such a big part of. We'll will be counting down the days till the next one!