Special Moments Captured on Camera
With the end of the year approaching, it gives us an opportunity to reflect. We've caught up with Miriam from our Bird Team who has been reminiscing about special moments captured on camera in 2019:
"I love an opportunity to reflect and there are so many wonderful things that have occurred this year. Working with our team of birds, we're privileged to see something special every day. Their beautiful flight styles and displays often leave you speechless, or sometimes we'll spot them having a good old bath and enjoying the experience. It can be easy to forget that we are rarely alone in witnessing these things. This is obvious when you scroll through the hundreds of amazing photos captured by visitors that are sent in to our Photographic Competition, something I've always loved looking throughout the year. I am often blown away by how good these photos are!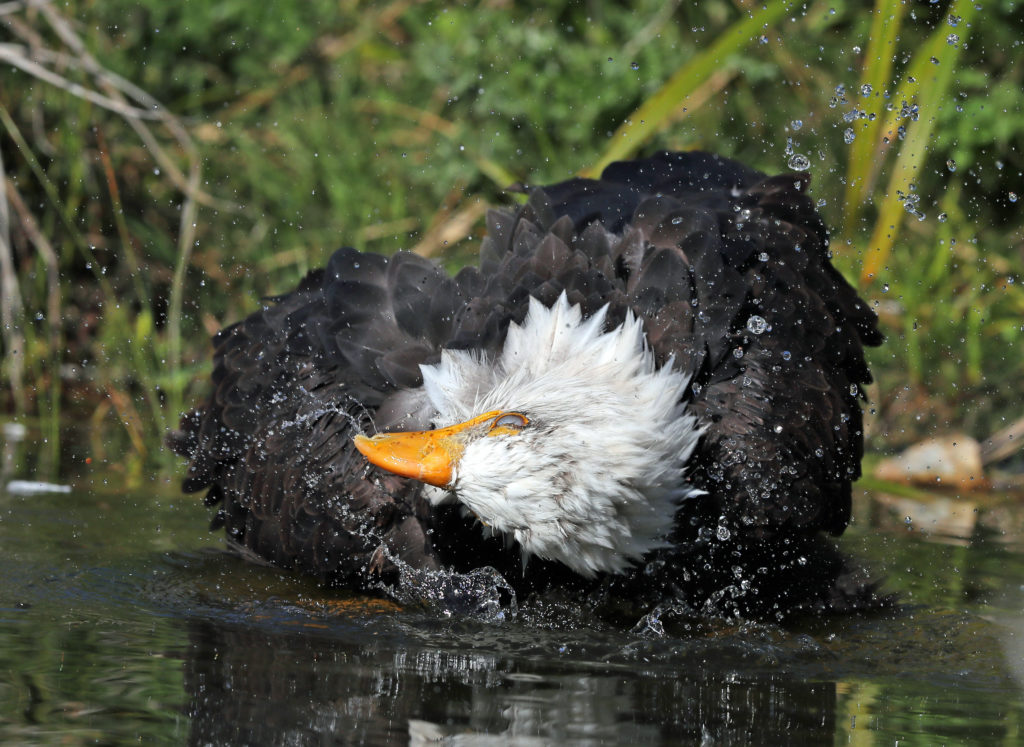 So cool by Steve Cooper
It is impossible to give examples of all the moments that make the birds at the Trust special, there are too many of them, yet the Photographic Competition is a lovely reminder so I have picked out some of my favourite memories that have been captured on camera and entered to this year's competition.
As with most years', in 2019 we welcomed new birds to our team. A rather unique new member was Angola the Secretary Bird who strutted his way into the team, with his wonky crest feather that made him look a bit comical, yet somehow added to his rather gentle character and somewhat suited him. I am pleased to report that it has straightened out now and he is 'all Secretary Bird'.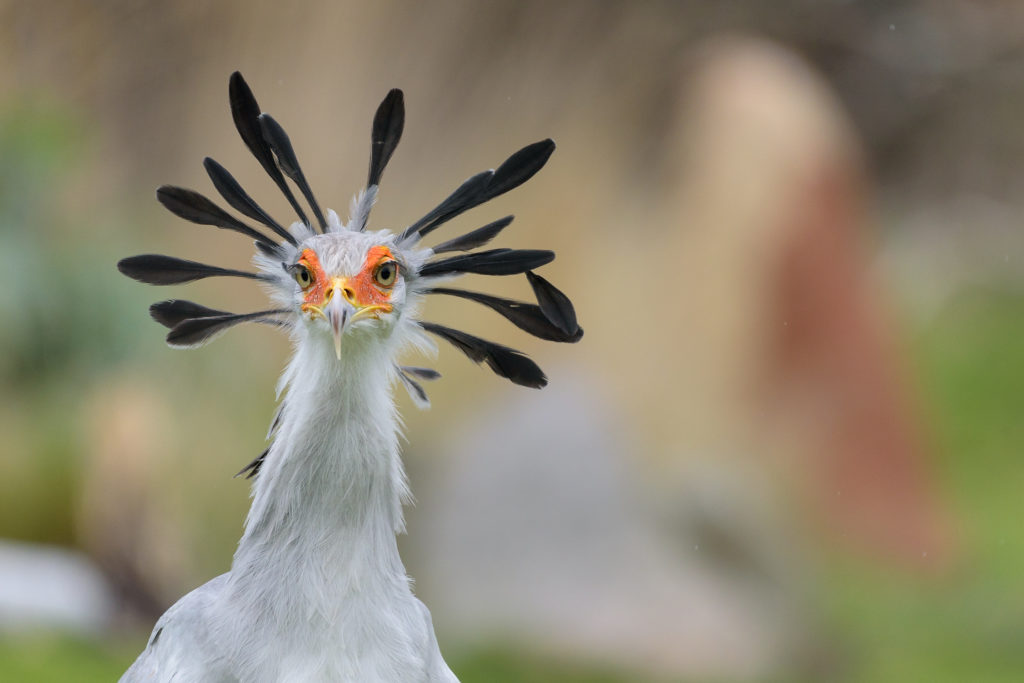 by Chris Robertson
Of our newcomers, Angola has fitted into the team perfectly. He is a calm and gentle young gentleman who catches everyone's eye when he enters the arena. He has taken all the fame and excitement in his stride, though sometimes he does exit without even kicking the snake! Some of you will have witnessed his underwhelming reaction to the rubber snake and you can almost hear him saying "pffft I am not kicking that! It's not even real" as he walks off casually with his beak in the air. Fortunately, he does come back eventually to show off his killer kick, precision targeting and that predatory instinct.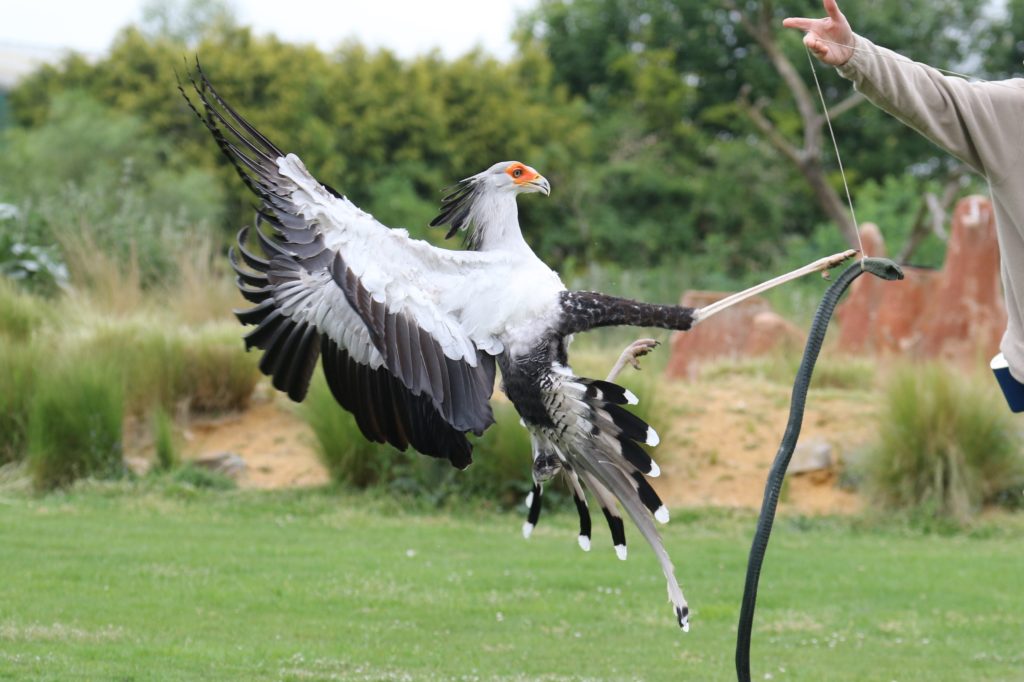 'OK Snake, I will save you from the string' – by Brian West
Away from the excitement of the displays this year, quietly in opposite ends of the grounds we were overjoyed to discover that three very important eggs had hatched and were being tended to by loving parents and, most importantly, were from two different Critically Endangered species of vulture! We've named our White-headed Vulture chicks Mufasa and Zazu, and our White-backed Vulture is called Simba.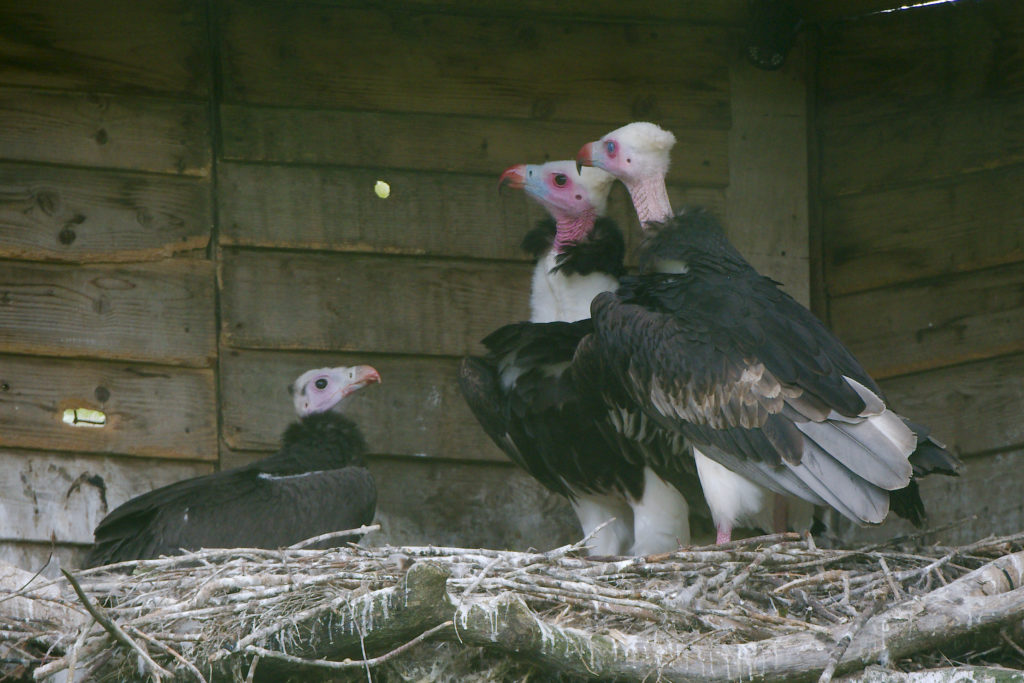 Proud Parents by Chris Dawson
The successful breeding of these species contributes to safeguarding a worldwide healthy captive population and in all cases they are part of efforts to prevent species from going extinct. These birds will also be involved in the important work of raising awareness about the struggles of wild populations and the need to protect and conserve them. We are also hopeful that eventually they may go on to have chicks of their own as well.
It is soul-destroying for us to hear of poisoning incidents involving vultures, including one earlier this year that occurred in Botswana and which killed more than 500 vultures. Our birds look up to us, unaware of what is happening to their species in the wild and it's tough because we simply want to look after them and be confident there is a bright future without these horrific threats. It is heartening that with our continued fight and thanks to our committed supporters we have started to limit the damage!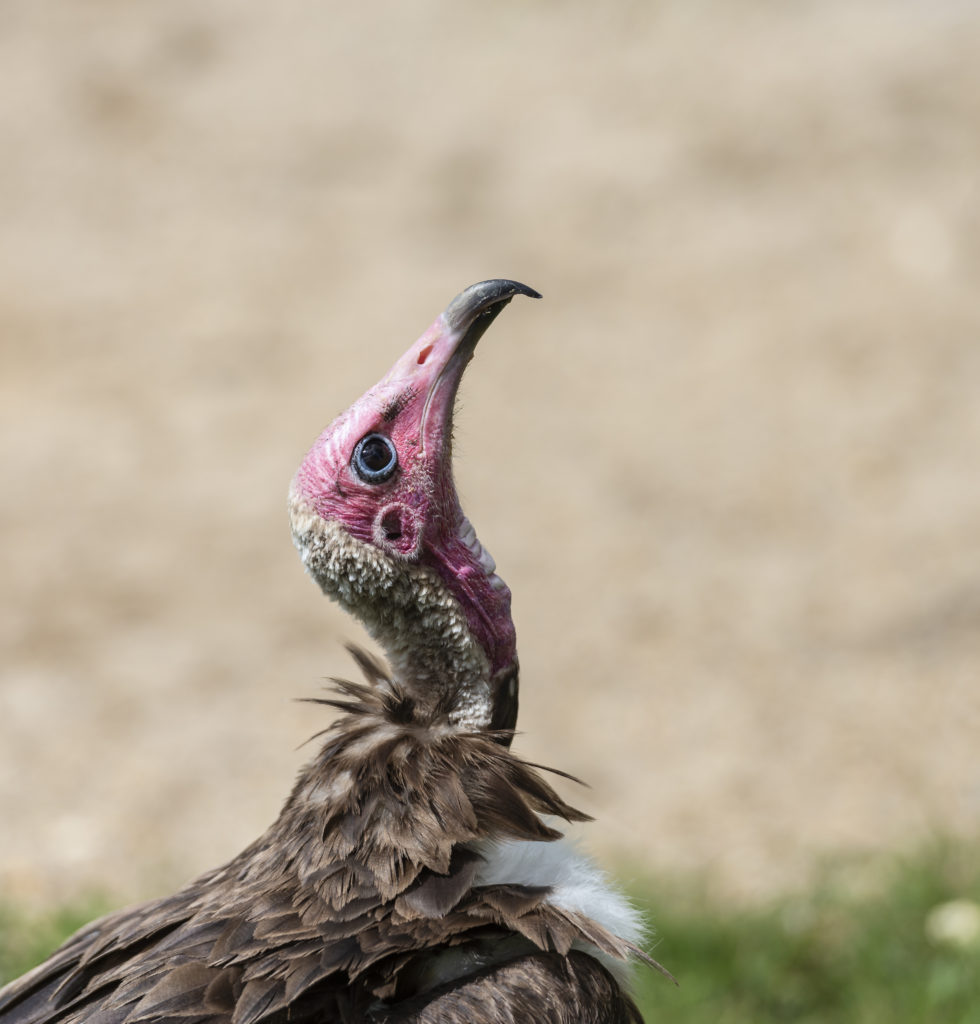 Begging for more by Alistair Hood
The start of spring at the Trust was captured with many splendid images of Reg's Wildflower Meadow where the tranquillity was captured with the perfect sight of a Merlin amongst the flowers.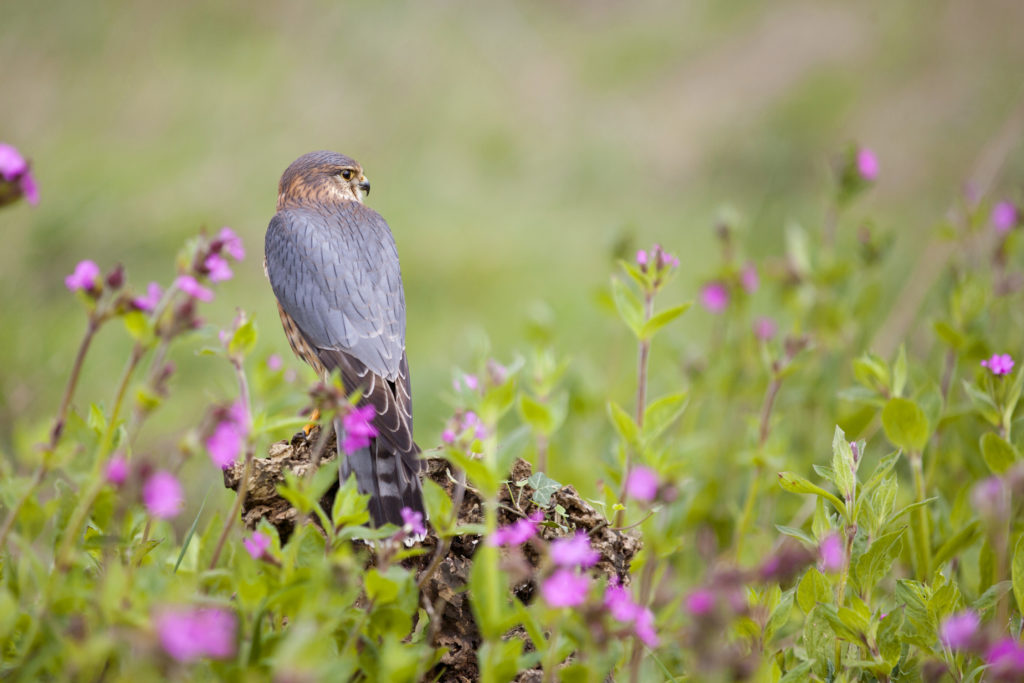 by Martin Wheeler
It is a privilege to see the birds preening and taking care of themselves. It is quite beautiful to watch one of the largest eagles in the world gently preening his feathers after his breakfast and morning bath.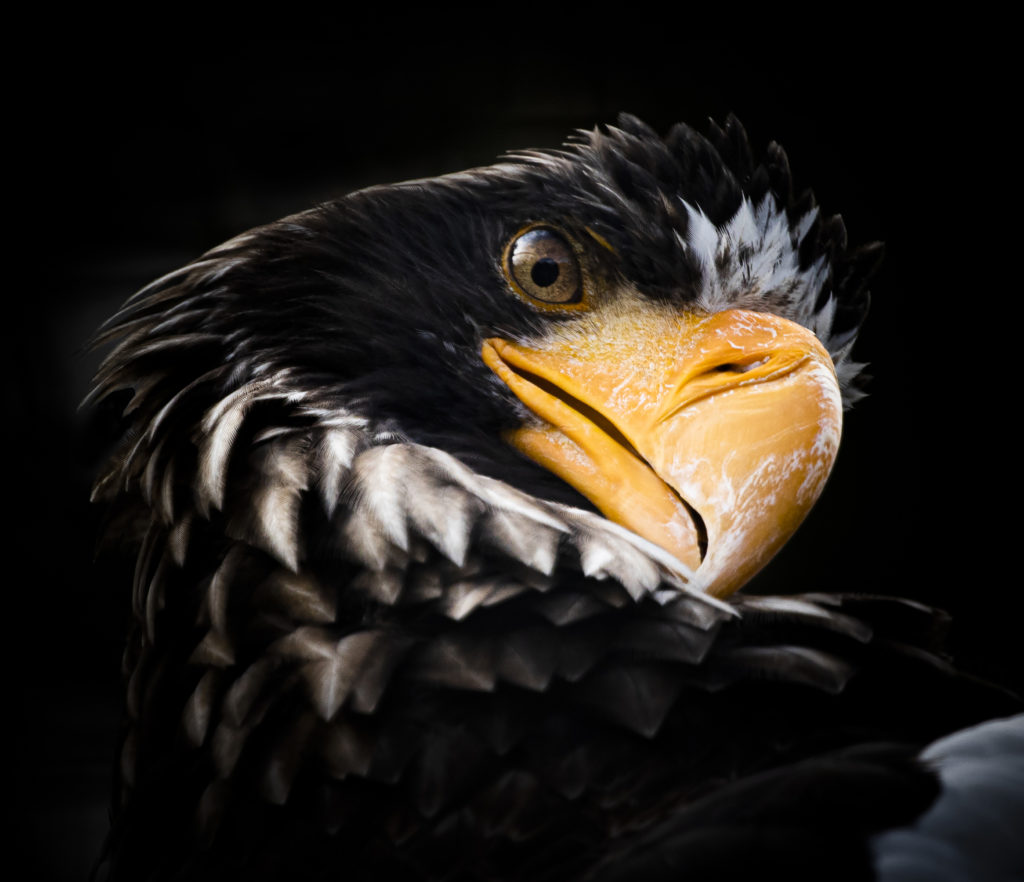 Steller's Sea-Eagle by Freddie Montague-dennis
My favourite of the 'gentle' moments has to go to our pair of Cinereous Vultures; the affection between them is so precious!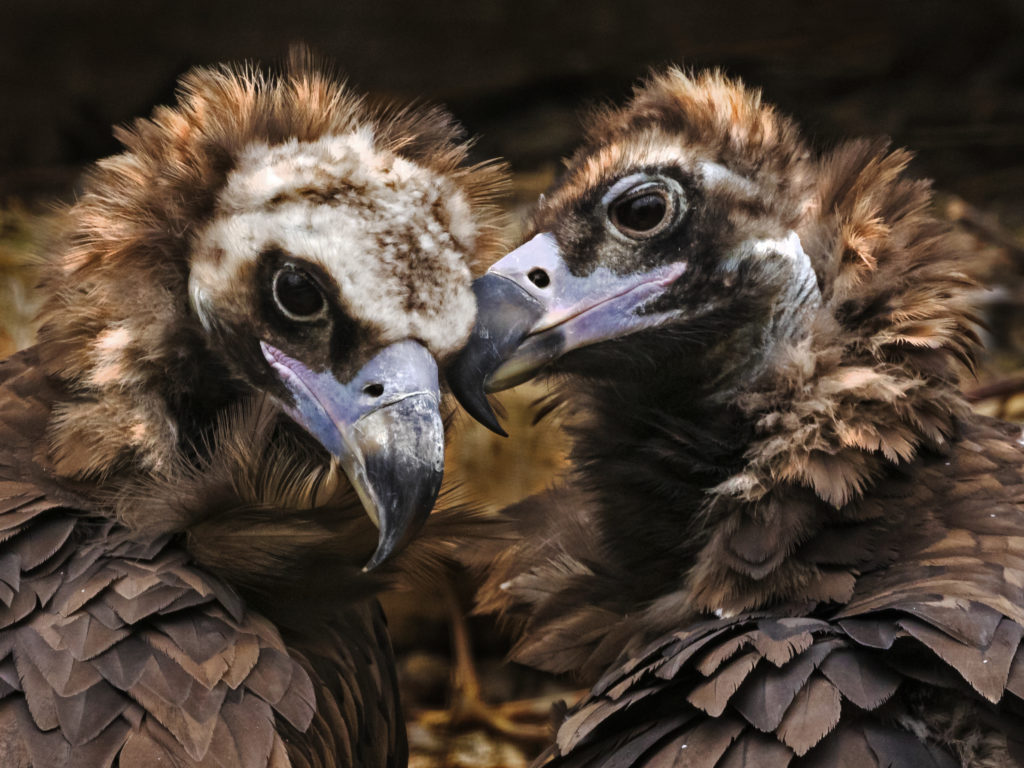 Cinereous Vultures Showing Affection by Yvonne West
This year, we have been treated to some fantastic flying displays from Boe, our Egyptian Vulture. She descends from hundreds of feet above Reg's Wildlflower Meadow, and it is quite remarkable to witness her tuck her wings in and barrels her way back down to the meadow, although sometimes she has some close encounters with the local corvids. We've had some unbelievable demonstrations and you know it's been a good flight when Gary from our Bird Team can't hide his excitement when she lands!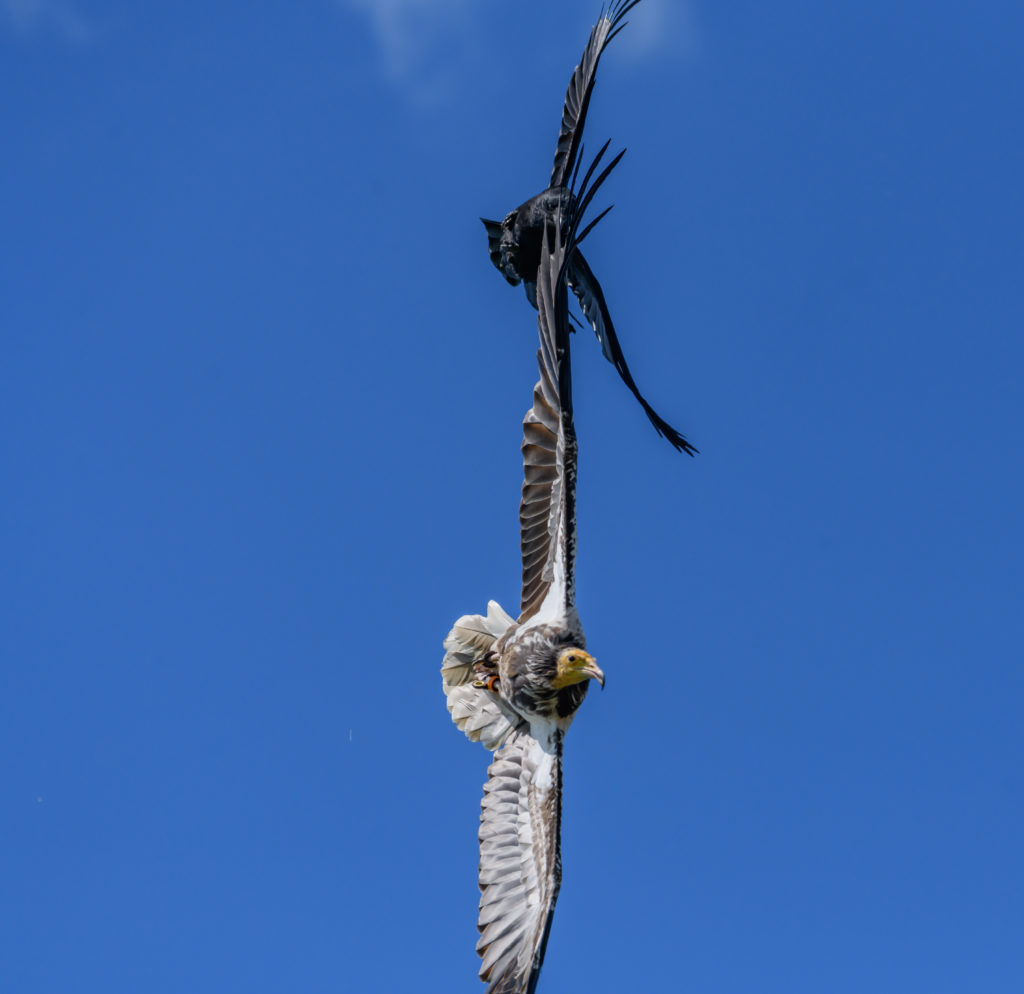 Wingtip to Wingtip by Stephen Page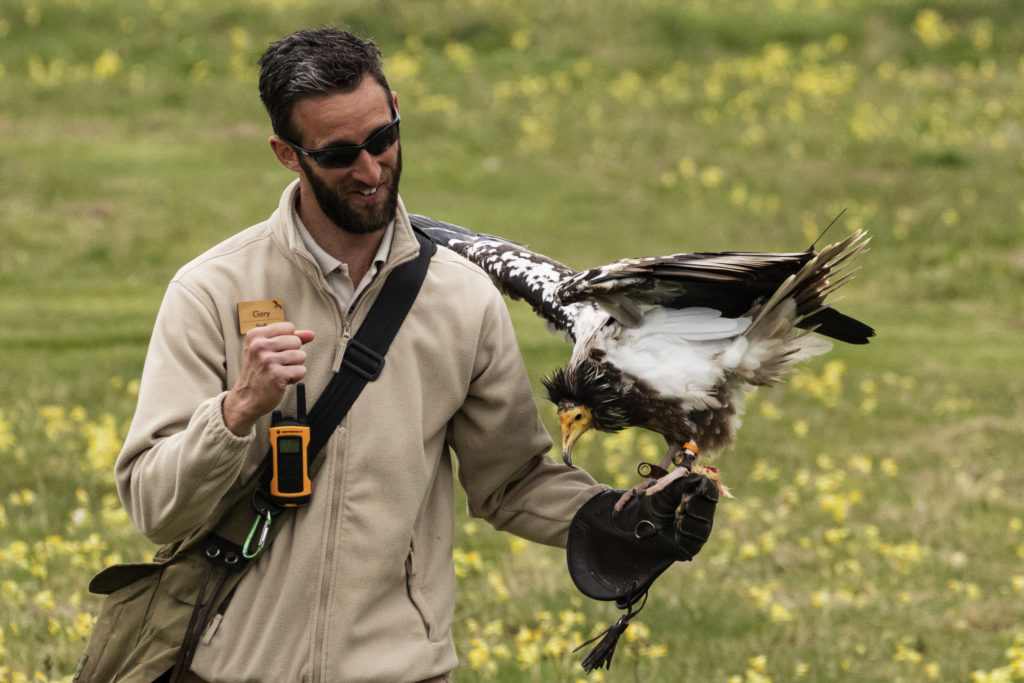 Gary shows his Pleasure with Boe by Yvonne West
Happy staff and happy birds are clear to see in the working relationship category, although my favourites are those that catch our team in mid-sentence, passionately explaining something. Here's a selection of my favourites: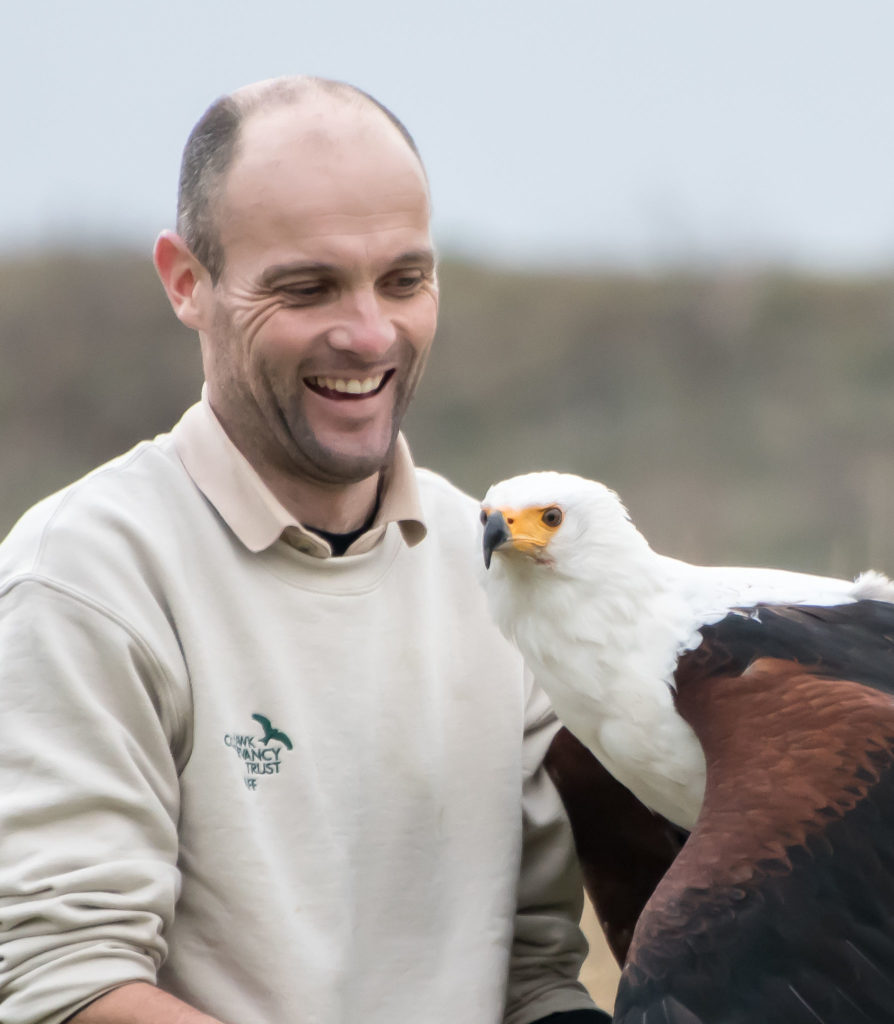 Happy Times by Gary Cooper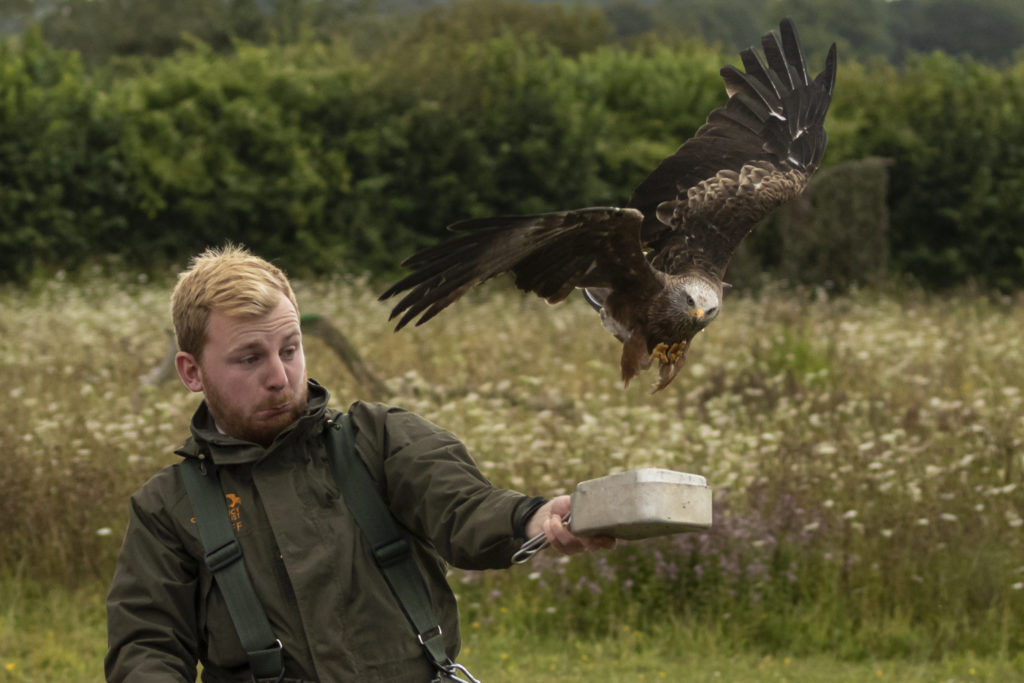 Ben Loses his Dinner by Yvonne West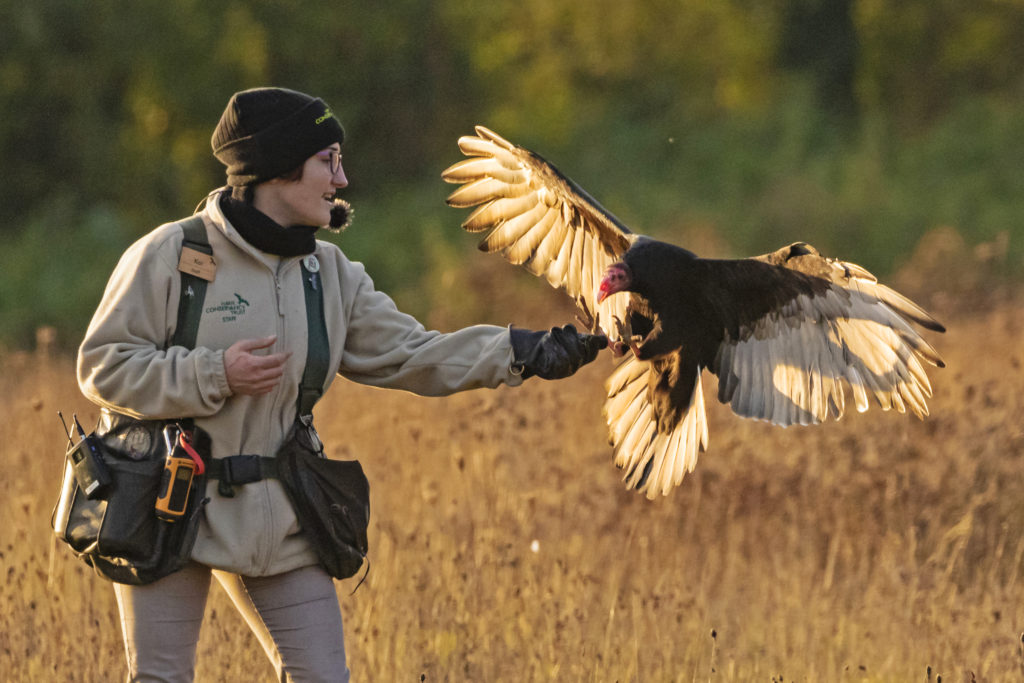 Kat and Burdock by Yvonne West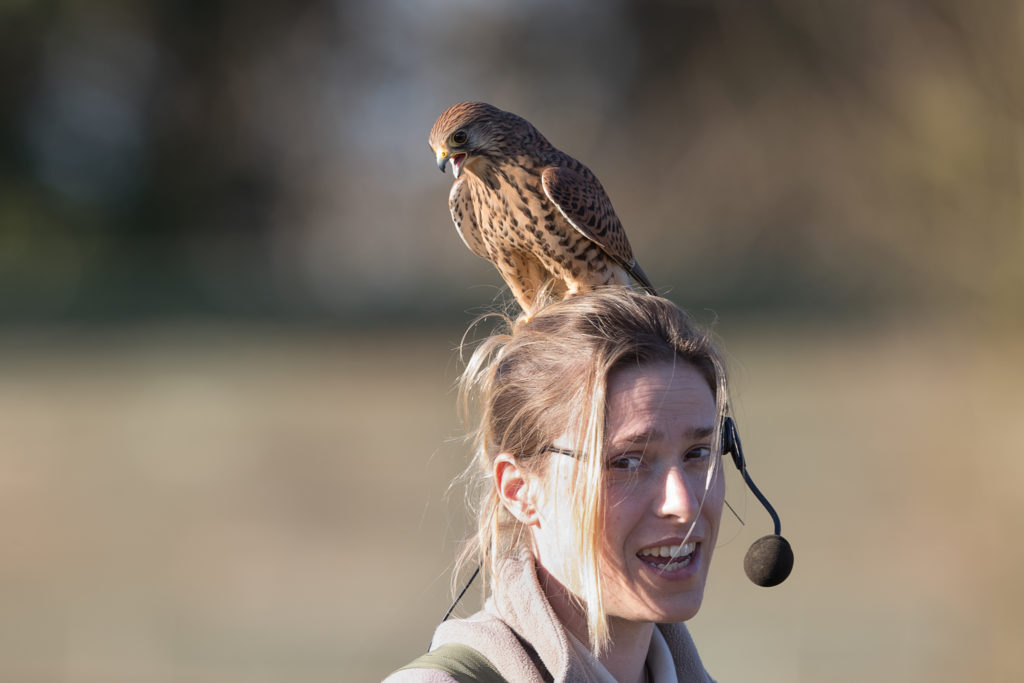 Bla Bla Bla by Sue Morris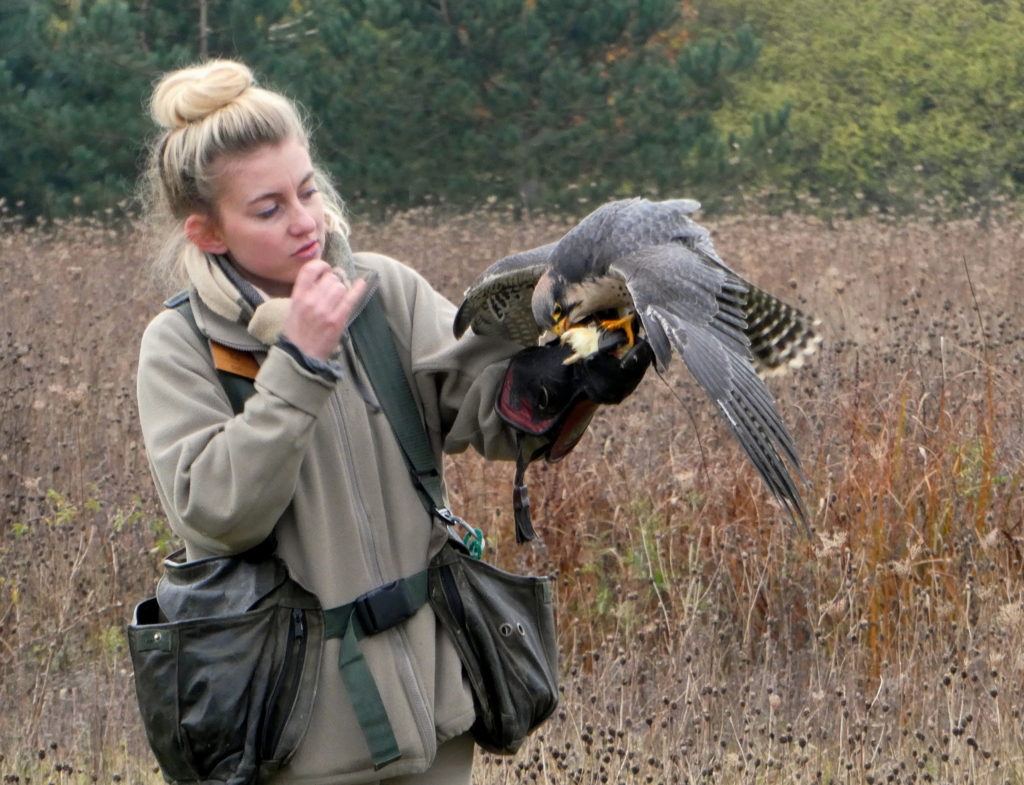 Falconry Lesson with Ria and Lanner Falcon Willow by Brigid Campbell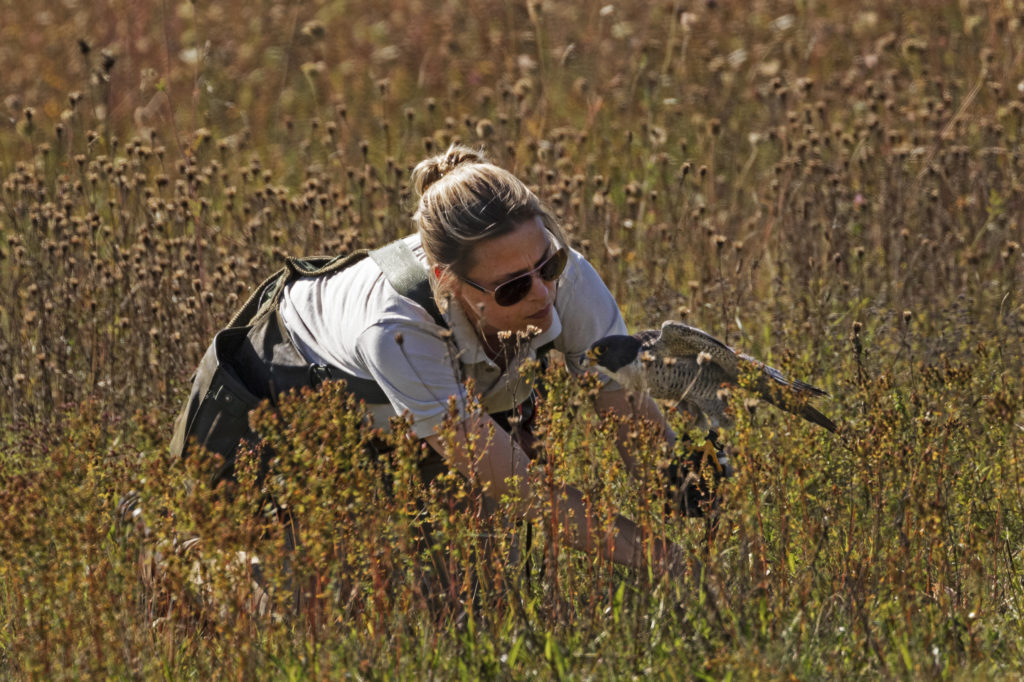 Miriam and Raj by Yvonne West
Clearly, other members of the team managed to get caught in more flattering moments than I did!
Our whole team are passionate about birds of prey and our Bird Team love being able to work with them on a daily basis, and it is a real honour to be paired up with a young bird for their training.
When you start this process, you have to build up the relationship of trust first before working towards free-flight training, with the goal of creating a visual display or routine that is exciting and breath-taking for our visitors to watch and that gives the bird the best opportunity to showcase their skills. They have to be strong, fit, and healthy, so that they can display natural behaviours with bucket loads of energy. Whether it is a youngster brand new to training or an older bird learning a new skill, as the person working with that bird, you get this proud parent feeling when it all comes together!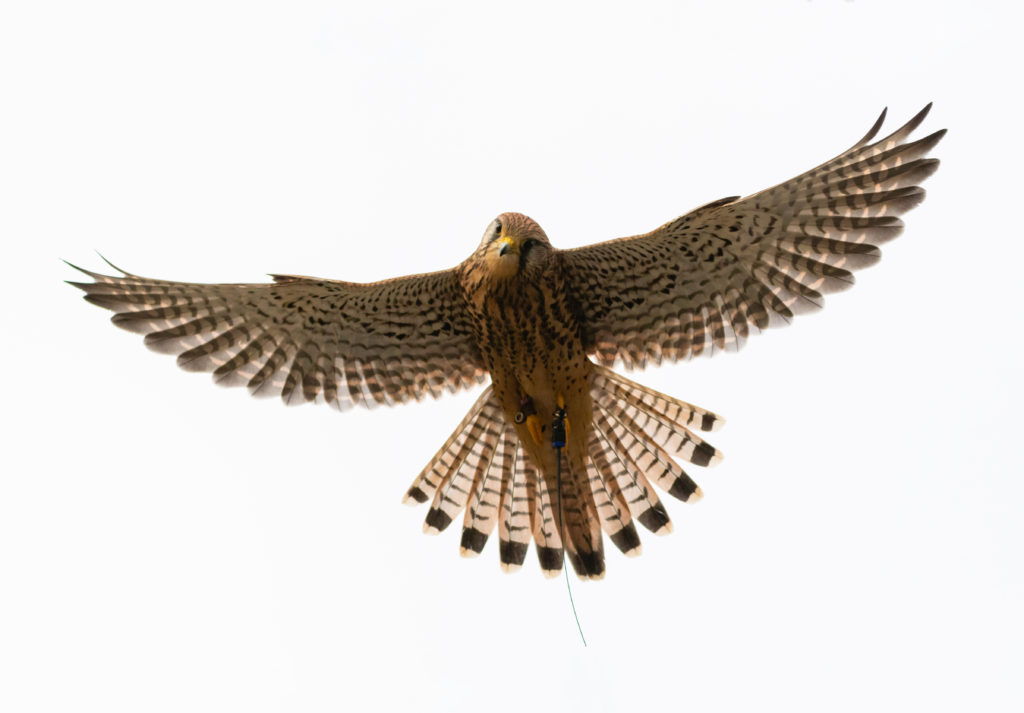 Prey's Eye View of Scout by Yvonne West
Scout (our Eurasian Kestrel) and I have been hard at work this year during the Brilliant Bird Brains sessions: I've really been trying increase her confidence to 'hover' above the arena. My hope is she will give you that 'vole's eye view' of a Kestrel as it is quite amazing. I would like to share how I feel when I stand out in the arena as she elegantly gets into the hover position overhead. Her body moves in the wind, her eyes and head stay perfectly still and focused on me. There is nothing quite like it. She is a very special bird and though we're still working on it, I'm hoping she'll hoping that soon she'll hold stationery in the hover position right above your heads in the audience. I am sure you enjoy watching her develop as much as we are.
To wrap things up, I'd like to introduce you to Mamba, one of our young White-headed Vultures, who I have been working with this year. I hope she will find her way into the displays or visitor events in the spring (if not before). Training is going well and working out how best to work with her has been my biggest challenge to date, but one I feel honoured to have the opportunity to have, it will be an exciting moment to see her in the skies above the meadow. Watch this space!"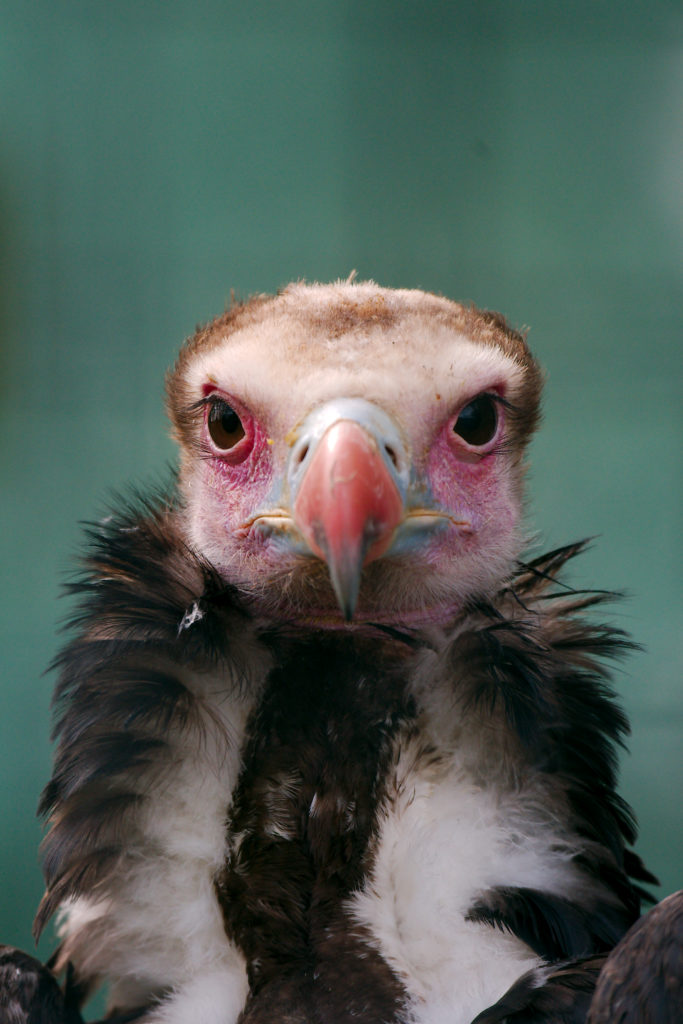 White-headed Vulture by Chris Dawson
Miriam Nicholls
Bird Team
All photos in this article have been submitted to our 2019 Photographic Competition – if you have taken any striking images from a visit to us, then consider entering our competition for the chance to WIN a private full-day experience at the Trust!