Catching up with Caracaras
After joining the Bird Team last summer, Ronnie Hunter has been getting to know the amazing birds of prey that live here at the Trust. During her time so far, Ronnie has grown very fond of our older pair of Striated Caracaras, Darwin and Lafonia, and their adorable antics. We caught up with Ronnie to hear all about this pair of intelligent birds.
"For the past few months I have spent a lot of time working on the Hospital section of the grounds. As part of working on this section, one of our duties includes taking care of our elderly pair of Striated Caracaras: Darwin and Lafonia. Visiting this pair of birds very has quickly become one of my favourite parts of my day here at the Hawk Conservancy Trust – they have the most wonderful personalities and take such care looking after each other.
"Darwin and Lafonia are recorded as being 42 years old, and have been together their whole lives. This species is known to have a long life expectancy in collections – most records suggesting over 30 years, which our pair have far surpassed. The expected lifespan in the wild isn't known, but is usually around half that of those living in collections. When they arrived here in 1981, the site where the Trust stands today was still known as Weyhill Zoo; it's amazing to think of the variety of animals that they once shared the site with. If you look around their current aviary today, you can still see a sliding door which is the remnant of a previous carnivore enclosure!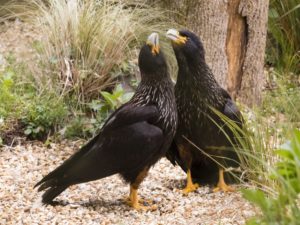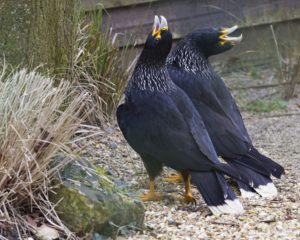 "Parents' to 16 chicks, the first hatching in 1990, they are the parents to our very own Sirius! Sirius hatched out in 2003, and takes part in our flying demonstrations and experience days. He's an extremely cheeky character and loves nothing more than causing chaos, all while still remaining his incredibly charming self. His charming side definitely comes from his dad, Darwin. As the years have passed Darwin has perfected the art of looking after Lafonia, and it is one of the many reasons I enjoy spending time in their company.
"These days, Darwin and Lafonia occasionally take time off from their retirement and take part in Brilliant Bird Brains within their aviary. It's a chance for our visitors to see just how intelligent this species is, whilst also keeping them on their toes with new activities.
"They are both very gentle birds, and will take food from the hands of people they trust, with Darwin being the more confident of the two. I've noticed recently that Darwin will always approach first to take a piece of food. If Lafonia is feeling a little more reserved, Darwin will take his piece of food straight over to her to make sure that she doesn't miss out. He'll then run back over to get another piece for himself – a small act that I find incredibly sweet. This is usually followed by elaborate vocalisations involving loud caws and throwing their heads back to add a physical element to their communication.
"Another behaviour I love to watch is when they 'stash' food around the aviary for later. They are not always the most graceful when doing this, and it's not uncommon to see them run headfirst into a tuft of long grass to hide the food inside in a hurry.
"Whether they're taking part in an activity on our daily timetable or just relaxing in their aviary, this incredible pair are definitely worth a visit during your next stop at the Trust!